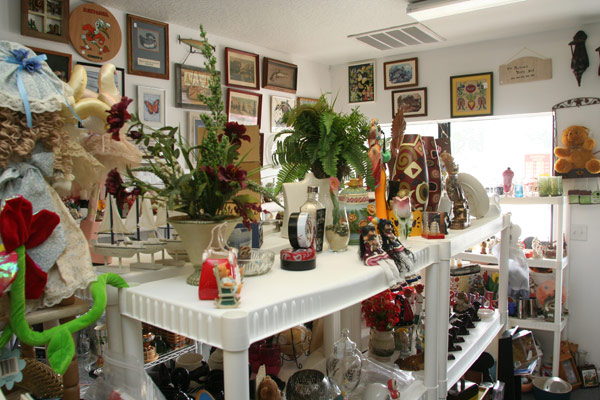 VERO BEACH — While other shops struggle, eBay is credited with getting Bears Variety Thrift Shop through the summer months of July and August.
Besides having their storefront they also sell their items on craigslist.org. The owners use facebook and My Space to get the word out about the shop, too. Robert and Estelita Cable co-own Bears Variety/Thrift Shop. Bears is a thrift-shop lover's dream and a claustrophobic's nightmare.
"We get a lot of people that go 'wow' at the variety," said Robert.
They are coming up on their first anniversary Sept. 1. When more northerners to come back during season they are planning to have a re-grand opening.
"We are looking forward to September when things pick back up," said Cable.
Soon Bears Variety Thrift Shop will be changing it's name to Christina's Thrift shop after Robert and Estelita's 3-year-old daughter.
Robert starts his day at 10:30 a.m. as he brings out boxes of numerous items. Everything from jewelry, dolls, clothes and golf clubs are currently at the shop.
Unlike most stores, customers won't see a lot of prices on items. In this shop, negotiating is an accepted practice.
"They're looking for prices they can afford," said Cable.
The shop would eventually like to partner with a non profit agency and contribute to them.
Helping people is a core value of the shop, the owner said. Bears has helped out with authorities needing stuffed animals for outreach programs, jewelry to organizations that help teenage girls, and interview clothes to people connected with the Samaritan Center who are looking for jobs.
"We do and will help one family at Christmas," said Cable.
Bears Variety/Thrift Shop is located at 953 Old Dixie Highway in Colonial Plaza and is open Monday through Friday 10 a.m. to 5 p.m. Starting in September they will open 10:30 a.m. to 3 p.m.