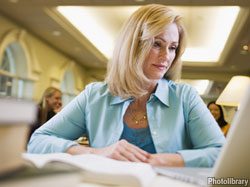 (ARA) – Countless adults are returning to the classroom, both online and on the ground, to pursue their education. Whether they're returning to adapt to changes in the economy, are looking to move ahead in their current role or are making the time to pursue the degree they've always wanted, heading back to school to compete in a knowledge-based economy can mean a lot of adjustment and some new experiences.
"Adults returning to school are faced with challenges that can be very different from their younger, sometimes more energetic peers," says Dr. Debra Gold, associate professor and program chair of undergraduate studies at Argosy University, Phoenix. "They tend to have a larger amount of responsibility in their personal lives, requiring them to focus not just on their studies alone."
"It's a lot more complicated than a school supply list and a new backpack," says Kate Bates, a wife and working mother of two children enrolled in a nursing degree program at San Bernardino Valley Community College in San Bernardino, Calif. "Finding time to earn a living, run a household and still connect with family has me multi-tasking like I've never done before."
"The good news is that adult students tend to be more focused, motivated and driven toward the goal of graduation. They are pursuing their degree to advance their career and have a positive impact on their lives and their families. As long as they do some advance planning, their chances of academic success are strong," says Dr. David Lange, chair of the College of Education at Argosy University, Twin Cities.
The key, according to Lange, is for adult learners to choose the right school and to use the resources available to them. "Know what you want to pursue and make sure the college you are looking at has that program and the learning options you need, whether that's courses on ground, online or a mixture of both. Also be sure you're comfortable with the size of the school. A smaller university can afford you the personal attention and access you need as someone returning to school after a time."
"Connect with someone beyond the admissions office," Lange says. "Once you're admitted to the program, make sure you get to know the chair of your department and/or your academic advisor. Use them as a resource to make sure you're on track with the courses for your program and your education as a whole."
"Utilize the resources offered at the college you choose to attend," says Jenny Stepp, student support and disability services coordinator for The Art Institute of Las Vegas. "Nearly all colleges and universities offer tutoring services for students. This can be critical for adult learners who may need assistance with the types of technology used in the classroom today or are studying subjects they maybe haven't dealt with since high school or their undergraduate years. In addition, they can offer assistance with stress management, time management and other mental health issues that can come up over the course of your studies."
Academic challenges aren't the only ones facing adults who return to school for more career training. "Time and family are important considerations," says Lange. "Have a discussion with your family and make sure they understand your needs, goals and the changes or adjustments that will be made to the family structure while you are in school."
"Finding time to study is important," says Gold, "but finding time away from your studies can be just as critical to your overall success. The key is to find as much balance as possible and remember that there is an end in sight and it involves having achieved a major milestone." Also important, Gold says, is to be open to new experiences. "Many students don't come in expecting to enjoy themselves," she says. "Forming new friendships and enjoying the learning process are some of the great added benefits that most adult learners don't expect."