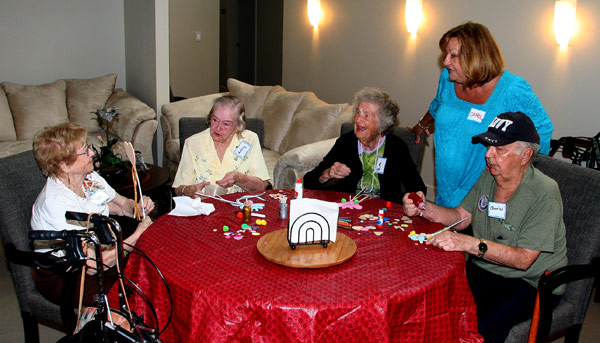 SEBASTIAN – For two years, seniors living in the Sebastian area have been seeking a new place to gather for lunch, conversation with friends and activities.
On Monday, they found that place at By the River, a senior housing community off Roseland Road, with crafts starting at 10:30 a.m. and lunch of baked ravioli and salad at noon.
The Senior Resource Association merged its congregate meals program it had at the Senior Center off Jackson Street with the new site at By the River and is now providing transportation to the non-residents five days a week for food and activities.
"I think it'll be nice," By the River resident Nina Becker said of having non-residents come for lunch.
Yvonne Barrette agreed, noting that she is looking forward to meeting new people.
Sebastian resident Hattie Seidenspinner was one of several seniors who had gone to the Sebastian City Council two years ago seeking a new place after being displaced by the adult day care program.
"This is wonderful," Seidenspinner said. She added that she is excited about being able to once again participate in activities and conversation – not just eat and leave, like what had been going on at the Senior Center.
Seidenspinner credited Sebastian City Councilwoman Andrea Coy for the change of venue, explaining that Coy had taken their pleas to heart and tried to find a location for the seniors.
Coy, for her part, had contacted numerous churches in Sebastian, trying to find one that did not already have some sort of program or one that had the space for the seniors.
"I really felt badly," Coy said for the seniors in the area.
When By the River opened earlier this year, she made the suggestion that the new community host the group meals as a way to bring new faces to the center.
Now that they have a new site for meals – and By the River is providing activities prior to lunch – Coy said they need to raise money to keep the activities free to the non-residents.
"We need donations from the public," she said. "We don't want to nickel and dime them to death" by charging the seniors a couple bucks here and there for the activities.
This week's activities include Coffee and Bakery with Louise, Art Class, Chair Yoga, and Cards/Games.
Senior Resource Association Executive Director Karen Deigl said that this is the only site for the congregate meals that has daily activities – and is one of five in the county.
"It's a beautiful place to come together to meet and talk," Ginna O'Connor, of SRA, said of the congregate meal program, which helps to reduce isolation and provide nutrition.
The only requirement to participating in the congregate meal program is to be 60 years old or older. There are no income restrictions and donations are always appreciated, Deigl said.
It costs the Senior Resource Association approximately $5.50 per meal served, which is funded through the Older Americans Act.
Those who live near one of the congregate meals sites can arrange for door-to-door transportation through the Community Coach, or drive to any of the five sites on their own.
They must register for their meals first, through the Senior Resource Association so organizers know how many meals to plan.
 ***
Senior Resource Association Congregate Meal Program at a Glance
Locations:
By the River, 11085 Ganga Way, Sebastian
The Club at Vero, 6885 20th St., Vero Beach
Wabasso Church of God, 8710 64th Ave., Wabasso
Gifford Youth Activity Center, 4875 43rd Ave., Vero Beach/Gifford
St. Francis Manor, 1750 20th Ave., Vero Beach
Register Meals: Call (772) 794-1142Register Community Coach: Call (772) 569-0903
 ***
By the River Activities Schedule through Aug. 6
Activities start at 10:30 a.m. Some activities are held after lunch and are open to the Sebastian seniors who have their own transportation.
Tuesday: 10:30 a.m. Coffee & Bakery with Louise; Dominoes at 1:30 p.m.
Wednesday: 10:30 a.m. Art Class; Language Class at 3 p.m.
Thursday: 10:30 a.m. Choice of Chair Yoga or Crocheting
Friday: 10:30 a.m. Choice of Cards/Games or Senior Yoga; Meditation at 2 p.m.
 ***
By the River Congregate Meal Menu through Aug. 6
Meals are served around 11:45 a.m. or Noon
Tuesday: Boneless Pork Chop with Mashed Sweet Potato, Spinach, Apple, Roll with Butter, and Milk.
Wednesday: Swedish Meatballs over Rice, Green Beans and Carrots, Mandarin Oranges, Roll with Butter, and Milk.
Thursday: BBQ Chicken with Sweet Potatoes and Collard Greens, Fruit Salad, Roll with Butter, and Milk.
Friday: Shepherd's Pie with Mixed Vegetables, Mandarin Oranges, Roll with Butter, and Milk.