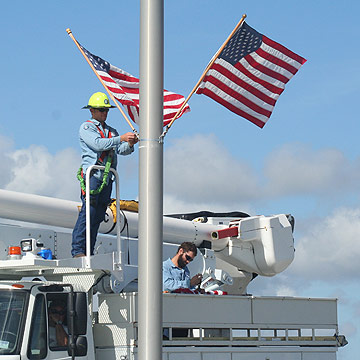 Over the patriotic holidays I always see the flag on the Barber Bridge appear one day then gone a few days later. I've never been able to capture them doing it. This year the stars aligned. Debbie Carson and I were on our way to a morning assignment when we were crossing Barber Bridge and saw the flags being put in their holders. The funny thing is that we would have missed it again if not for rescheduling the morning assignment for one hour earlier.
This was definitely a shot we wanted but never saw happening until that day.
I ended up dropping her off and racing back to the bridge only to walk halfway up it to meet them. It's a very slow process.
To top it off I was wearing my court clothes because the Ira Hatch trial was still going on and judges most times don't like to see shorts in their courtroom, it's too cold usually anyway.
So, mystery solved, another shot down.