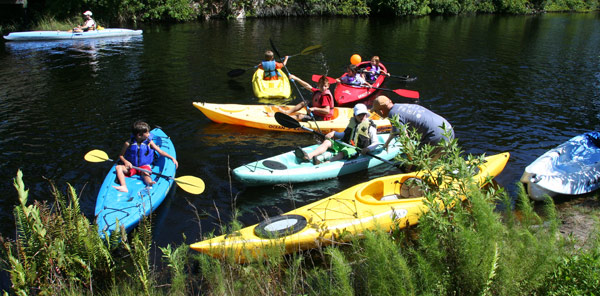 SEBASTIAN – On a bright, hot Wednesday, more than a dozen kids climbed aboard kayaks and canoes and launched into the North Sebastian Conservation Area lake behind Sebastian City Hall, ready to take in the fresh air and sights.
"It's like awesome!" said 8-year-old Steven Russell while taking a short break from kayaking to switch vessels with 12-year-old Bryan Rodin. Wednesday was the fifth time Russell had paddled a kayak – it was a first for Rodin.
"It's magnificent," Rodin said of being out on the water. "The weather is perfect."
As a first-timer, Rodin said he's content taking in the scenery – he's become a bit more of a "nature freak" now that he's gotten into a kayak.
"I wasn't really a nature freak" before the experience, he explained.
The boys, along with several others from the Sebastian Boys and Girls Club and the Kayaks Etc. Adventure Camp, spent more than an hour in the lake, chasing each other around and exploring the water.
The morning didn't start off so smoothly for Russell, though, as he quickly discovered his paddle was too light for the kayak he was rowing.
"It didn't go as fast," Russell said of the kayak because the paddle wasn't pulling the water it should have.
When he pulled up to shore to get a new paddle, his kayak started to drift away from dry land and under the pedestrian bridge that crosses the lake.
Kayaks Etc. co-owner and summer camp supervisor Mike Beck ran the larger paddle out to the bridge and was able to pass it to Russell before he floated out of reach.
"I can't believe I was floating away!" he said.
All laughs, Russell was no worse for wear and had a story to tell friends later.
"We do it for the fun of it," Beck said of offering the kayaking summer camps. "We want to get more kids out on the water."
Kayaks Etc. is working with the area Boys and Girls Club to promote physical activity through the club's "Growing Healthy Kids" program.
"We can grow healthy kids on the water," Beck said.
Even though summer is in full swing, Beck said that they still have openings available in the summer camp programs. Each camp is about a week long and includes outdoor activities and instruction.
"They figure it out so quickly," Beck said of kids learning to paddle. "They learn by doing."
Parents can sign their children up for just one day, for a full week, or for multiple weeks.
For more information about the camps, visit www.KayaksETC.com or call (772) 202 – 0220.