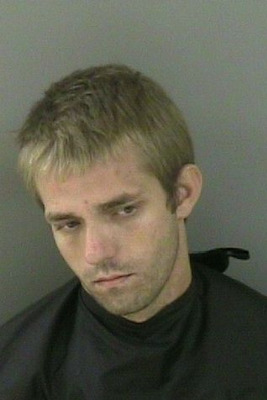 VERO BEACH – A Vero Beach man faces a multitude of charges after authorities say he broke into a business, stole $2,500 worth of copper wiring, and drove a stole truck into the business owner's vehicle while trying to get away.
The Indian River County Sheriff's Office arrested Zachery Howell, 24, of the 1300 block of 12th Avenue, on July 5 after responding to Casano Electric, located on Old Dixie Highway.
The business owner told deputies that a white male had cut his fence, gaining access to the property between the fence and barbed wire and that the subject grabbed a trash can containing wire before trying to flee the scene.
The victim told authorities that when he confronted Howell, Howell told him he was getting the wire for his friend. Howell then got into a red Mazda pickup truck and attempted to leave, but ran into the victim's vehicle several times, the Sheriff's Office said.
A responding deputy search the area for vehicles that matched the victim's description and found the truck under blankets and clothing.
Authorities tracked down the registered owner of the truck, who told them that Howell did not have permission to take vehicle.
After being placed into custody, Howell told investigators that he had been at a store across from Casano Electric and he saw the garbage can, which he assumed was garbage, so he decided to take it.
Howell told deputies that he apologized when the victim confronted him and he did not remember hitting the victim's vehicle.
Howell is being held at the county jail in lieu of $25,000 bail on charges that include felony grand theft auto, grand theft, burglary of a business, aggravated assault and tampering with evidence.