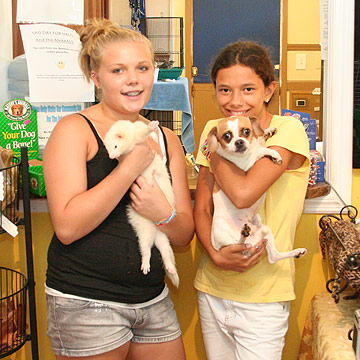 SEBASTIAN – In an effort to raise funds and awareness, Professional Animal World's H.A.L.O. is planning a benefit golf tournament next month and is seeking sponsors to help out.
"H.A.L.O. has an everyday battle," said volunteer Kim Kern. "You name it, they need it."
That's why she and others have decided to pull together the golf tournament, which will also benefit Stray No More, a non-profit group that assists in spay/neuter efforts.
All the money raised from the event will stay in Indian River County and be used to help the county's needy and abandoned pets, Kern said.
The In the Ruff Golf Tournament is set for Aug. 28 at the Indian River Golf Club, 800 Carolina Circle SW, Vero Beach, where Kern's husband is the golf pro.
"My goal is to fill up the golf course," Kern said, noting the course can handle 120 golfers.
As for sponsors, Kern said she has an unlimited goal – just the more, the better.
The Kerns are works on setting up different sponsor levels, recognizing that not all businesses can afford the $600 Corporate Sponsorship.
They are considering Hole sponsorships, sponsors for the beverage cars, tent sponsors, and several others, starting at $100.
Already, one company has stepped forward and signed as a corporate sponsor – Morgan Stanley, of Vero Beach. As such, the company will be allowed to enter a 4-man team in the tournament and receive a tee sign and a cart sign.
All corporate sponsors will be listed on a small sign on the inside of each golf cart in recognition of their support.
The golf tournament will start at 8 a.m. with registration and breakfast. Items available in the Silent Auction will also be on display at that time.
Golfing is expected to begin at 9 a.m. and wrap up mid-afternoon.
For those who aren't golfers, there will be other activities available, which are open to the public. From 10 a.m. to 2 p.m., there will be booths set up for professional pet portraits and for adoptions. Low cost vaccinations will also be available.
H.A.L.O. and Stray No More work to provide assistance to families who would otherwise abandoned their pets, Kern said. They assist by providing food and helping financially to cover medical expenses.
"It's really very sad," Kern said of when families can no longer afford to keep their pets and choose to drop them off at a shelter. "My pets are my family. I can't imagine" having to give them up.
But with the number of people being laid off or having their hours cut due to the economy, more and more families are facing that dilemma, she said – all the more reason for the golf tournament.
Businesses, or individuals, wishing to sponsor the event or learn more about how to register, should e-mail Kim Kern at lesconcierge@yahoo.com. Her business, Les Concierges of Vero Beach, LLC, is the event planner.
They can also call Kern at (772) 360-9294 or Linda Kline at (772) 321-0961.
To learn more about H.A.L.O., visit www.HALORescueFL.org.