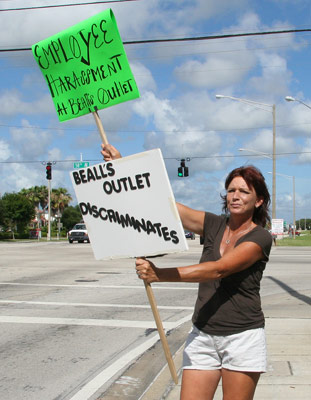 Update – 12:30 p.m.
INDIAN RIVER COUNTY – Several former Bealls Outlet employees took to the corner of State Road 60 and 58th Avenue Friday, waving protest signs alleging mistreatment at the Indian River County stores in Vero Beach and Sebastian.
Some signs read: "Get Cancer – Get Canned," "Equal Pay for Equal Work," and "Bealls Outlet – Unfair Labor."
"They're kind of scared for their jobs," said former manager Brenda Petito, explaining that only one still-employed worker has been involved in the protests. "They fear retaliation." Petito, speaking on behalf of the protesters, said that their district manager has forced them to work as many as 20 to 40 hours extra a week without being paid for the overtime.
She also alleged that the district manager has forced employees, including herself, to quit.
One employee took a medical leave due to rheumatoid arthritis in her hands and feet, according to Petito. When the employee returned to work, she was let go because there were no available positions. Petito said that there were indeed two openings at that store.
Bill Webster, director of public and government affairs for Bealls Outlet, said the company is aware of the protests and the allegations.
Webster confirmed that the company launched an internal investigation on Thursday and that the regional manager and human resources department are conducting in depth interviews of current and former employees.
"It's been taken very seriously," Webster said of the allegations and investigation. "None of this is being taken lightly."
Petito said that the protesters are asking for is better working conditions – they want to be paid for the hours they work and they want to get their lunch breaks they're supposed to have.
The protesters also claim that the district office is discriminating against older employees, telling managers not to hire elder people.
"I think it's wrong," Petito said. "They're weeding them out."
Petito said she filed a complaint with the Equal Employment Opportunity Commission with regards to her not receiving unemployment benefits when she was forced out of her position.
A call to the Equal Employment Opportunity Commission's Miami district office was not immediately returned.
Webster said that all managers are expected to comply with all labor laws and company policies. He also noted that employees are encouraged to call Bealls' confidential and anonymous tips line pertaining to questionable activity or policy. That tip line is 800-SAMS-TIPS.
This article will be updated as more information becomes available.