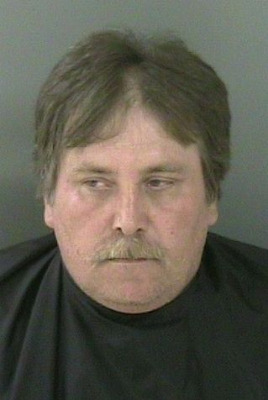 INDIAN RIVER COUNTY — A partially obscured license plated landed a Kentucky man in the Indian River County jail on drug trafficking related charges Wednesday evening, authorities said.
The arrest marks the second high-yielding drug confiscation case involving suspects in Kentucky this month. In this case, authorities found more than 500 prescription pills in the suspec's vehicle. Indian River County Sheriff's Deputy Jason Williams stopped 43-year-old Gregory Sizemore, of Kentucky, on Interstate 95 because his license plate was obstructed.
The deputy searched Sizemore's vehicle and found more than 500 oxycodone and alprazolam (the generic form of Xanax) pills inside a crumpled McDonald's bag, the arrest report states. The Sheriff's Office determined the prescriptions were written in Sizemore's name.
Sizemore told investigators that he drives down from Kentucky to West Palm Beach once a month to pick up his prescription.
He also told authorities that he got 400 pills last month, the report states. Deputies found two appointment cards from pain management clinics where he had scheduled visits for July, according to the Sheriff's Office.
Sizemore further told deputies that he gives some of his pills to his son as he was trying to wean him off heroin, the Sheriff's Office said.
Sizemore was arrested and charged with possession of Oxycodone with intent to deliver.  He is being held in the county jail in lieu of $35,000 bail.
The Sheriff's Office seized and began forfeiture procedures on $2,611 in cash and the 2008 Dodge Challenger Sizemore was driving.
Earlier this month, the Indian River County Sheriff's Office arrest five people from Kentucky after a traffic stop for a busted headlight. Authorities found 975 prescription pills and 8.4 grams of marijuana.
It was determined through the investigation of that case that one of the people, Kenneth Kunkel, arranged for the four others to travel to Florida from Kentucky to get prescription drugs from pain clinics and give him a portion of those pills, according to that case's report.