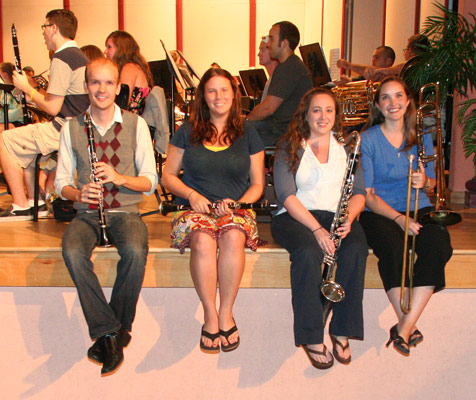 SEBASTIAN – Several dozen Sebastian River High School graduates gathered on the auditorium stage for what was the first time in years to play their clarinets, flutes, drums and other instruments.
"Don't be frustrated if it doesn't sound right right away," called out former band director Eric Allen. "It never did."
The friendly jab drew chuckles from his former students as they continued to rehearse for Saturday's Alumni Band Concert to benefit the Sebastian River High School band program.
The concert will be held at the auditorium beginning at 7 p.m., and though the cost is free, donations are welcome. All proceeds from the event will go to the school's band scholarship.
"It's pretty exhilarating," said Class of 2001 grad Amy Mardis of getting back up on the stage after it had been so long since playing her clarinet.
Three other classmates of Mardis are part of the Alumni Band – the only one who continued with music was Jared Wunderlich, who played his clarinet in college and later came back to Sebastian River High as a band staff member.
Tena Guarino played the trombone in high school. And aside from Thursday's practice for Saturday's concert, she said the only time she has played was Senior Night during Homecoming because her sister was a graduating senior this year.
Jamie Culbertson, who plays the bass clarinet, picked up her instrument a week ago to see just how bad she was, she said. She had to look up the finger chart because she couldn't remember her finger placement for certain notes.
The admission drew good-natured ribbing from her fellow classmates.
It's one of the challenges the band directors have in conducting an Alumni band, current school band director Joel Pagan said.
"Some of them are playing for the first time tonight," Pagan said during a break.
Another challenge in putting together such a band, he said, is that the organizers didn't know how many people would want to participate and how many of each instrument they would have.
"You're welcoming anybody who wants to come," Pagan said, noting it would be difficult if the group wasn't balanced. "We've been blessed."
As for seeing some of his former students again, Pagan said they're picking up where they left off. He explained that 75 percent of the alumni are familiar to him from his five years at the school – the other 25 percent graduated before he arrived.
"It's a different experience," he said of conducting students who are no longer his students. "But it's a joy, a lot of fun."
In the classroom, Pagan said band practice can be uptight, focused on the next performance or competition.
"This is more about having a good time," he said. "It's a hoot."
Former band director Eric Allen, who left the school a year ago for other opportunities, said it was good to be back.
"This has been my home for 10 years," he said. "It's just a dream."
Class of 2001 grad Jared Wunderlich said that while he's nervous about Saturday's performance, one thing makes it easier.
"There's no grade at the end," he said.
 ***
Want to go?
What: Sebastian River High School Alumni Band Concert
When: 7 p.m. Saturday, June 19
Where: Sebastian River High School Auditorium
Cost: Free, though donations go to support the band's scholarship program