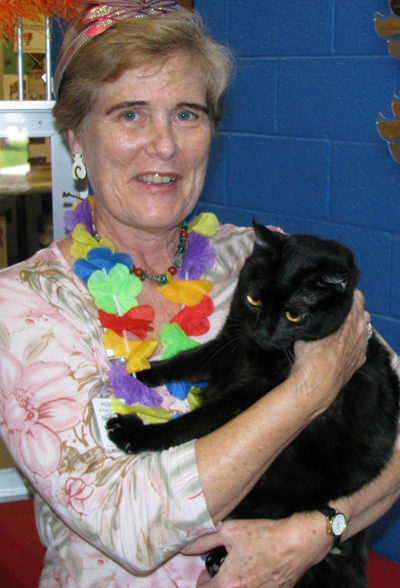 VERO BEACH — First year anniversaries are supposed to be joyous occasions, but the six beautiful cats in the lobby of the Humane Society of Vero Beach and Indian River County surely would have been happier celebrating one year in a forever home rather than at the shelter.
June is Adopt a Cat Month, and the shelter is offering all sorts of incentives to potential adopters, including a cake and catnip party today that introduced some of the long-term shelter cats to the public; all are healthy, spayed or neutered, vaccinated and chipped, and all are very ready for a good home.
The fabulous felines have been lovingly socialized by caring volunteers, and have been cat-egorized into nine different feline-alities, based of course on their individual purr-sonality traits.  Interested parties are asked to complete a Meet Your Match Survey and adoption counselors help them find just the right fit.
Through June 30, in honor of Cat Adoption Month and because there are approximately 85 cats looking for homes, they're offering $25 special adoption deals on pre-owned cats that are a minimum of three years-old.  The cats even come with a free CAT FAX history report.
Long-time volunteer Sheila Marshall worked on the Meet Your Match survey with Jack Caffrey of Sebastian, who was seeking to adopt two cats.
"We just lost a 15 year old cat so it's kind of quiet.  I'm thinking of two cats so that they could play together and keep each other company," said Caffrey.
He was also interested in older cats, acknowledging that kittens are generally more easily adopted.  Several pairs of older cats were available, and Marshall happily showed them all to Caffrey, including two inquisitive and very sweet nine year-olds whose owner had passed away.
Executive Director Chalmers Morse said that the reason for the one-year anniversary party was twofold.  "We're hoping that it gets them adopted, but we also want people to see that we don't euthanize them, even if they're here for a long time."
Animals in the adoption center have been thoroughly tested for aggression and health issues and volunteers spend hours playing, walking and stimulating the animals physically and mentally.
"Our volunteers are vital in making sure the animals are healthy and socialized," said Morse.
Adoption hours are Monday through Saturday, 11 a.m. to 4 p.m. and from 11 a.m. to 3 p.m. on Sunday.