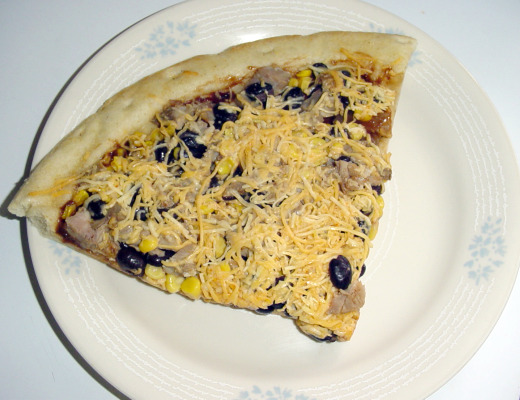 I had every intention of sticking to my menu plan for this week – but after just a couple days, it's becoming evident to me that it's going to be rough.
It's not because of unanticipated meetings or breaking news – or at least, not yet. Instead, it's because of a Memorial Day barbecue Keith and I went to over the weekend.
We took home two gallon-sized bags of yummy baby back ribs – which I hadn't worked into my menu plan.
So now I'm trying to figure out how to incorporate the ribs into the meals so they don't go to waste.
The first meal, Monday, was easy enough – change the barbecue chicken pizza to baby back ribs pizza. Done and oh so delicious. Keith's been munching on the leftover pizza for lunch ever since.
I took a store-bought pizza crust and brushed barbecue sauce onto it. Then shaved the rib meat from the bones (took four ribs) and mixed it with left over canned corn and rinsed black beans and sprinkled the concoction on the crust. I also sautéed onion slivers and worked that into the pizza.
Topped it with a sprinkling of "taco" cheese for some added zip and popped the beauty into the oven.
Tuesday's meal, however, I just couldn't figure out how to incorporate the ribs. Baby back ribs don't exactly scream breakfast to me – and I had planned to make a frittata.
Looking back, I guess there wouldn't have been anything wrong with shredding some of the meat and mixing it in with the diced potato and chopped onion and bell pepper.
For tonight, maybe I can work the ribs into what was supposed to be "Spicy Chicken Posole." I'll have to ponder that one.
If you have any ideas for how I can work the baby back ribs into my meals, I'd love to hear them. Just leave a comment below.
Until then,Happy Eats!