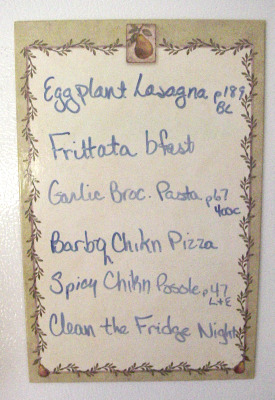 Being a member of an online daily news organization usually means long hours, last minute on-site interviews and breaking news – all of which have the potential for ruining any chance for a relatively healthy dinner.
You know the saying "man plans and God laughs?" So true for journalists who need to eat.
Fortunately for me, life is usually stable enough I can plan a week's menu on Sunday and hold fairly true to it – though some weeks are better than others.
And that brings me to this blog. I plan to share with you what it's like as a daily journalist trying to get dinner on the table in time enough for either me or my husband, Keith – VeroNews.com's visual journalist – to rush off to an assignment.
Some weeks, we have found over the course of nearly a year, are relatively quiet and we can stick to our menu plan. Others seem to implode – meaning goodbye Chicken with Tarragon Sauce and hello fast food.
This blog is meant to be merely my musings after a long day at the office or out on assignment, once dinner is done and the tummy is full. I will, however, start each Sunday off with what I hope will be my week's menu and updates as to how well we were able to stick to it.
So, here's the menu for this week.
Eggplant Lasagna
Frittata Breakfast
Garlic-Broccoli Pasta
BBQ Chicken Pizza
Spicy Chicken Posole
Clean-the-Fridge-Night (aka, Leftovers)
 I hope you enjoy reading my blog. Feel free to post comments below any of my entries, especially if you have any feedback or dinner suggestions – I'm always on the hunt for new meals.
Until then,Happy eats!