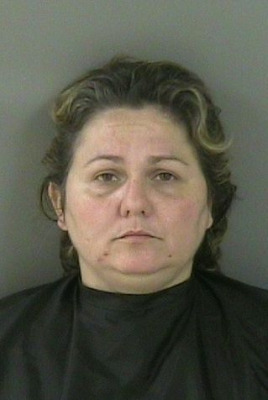 INDIAN RIVER COUNTY — A Vero Beach woman was arrested in an undercover drug bust operation, accused of trafficking oxycodone.
Tonya Griffin, 40, of the 2100 block of Atlantic Boulevard, was arrested on May 21, for trafficking in over 28 grams of Oxycodone and sale of Oxycodone. She is being held at the county jail in lieu of $125,000 bail.
Through the use of an confidential source working with an undercover detective from the MACE Unit, it was arranged that they would purchase 70 pills containing Oxycodone from Griffin at her Vero Beach residence.
The undercover detective paid Griffin $210 and received the pills.
Approximately 5 minutes later, at about 2:55 p.m., other detectives made contact with Griffin at her house.  She was still holding the marked U.S. currency given to her by the undercover detective, the Sheriff's Office said.
The pills were later identified as Roxichet, a schedule 2 narcotic consisting of 5mg of Oxycodone and 325mg of Tylenol.
The total weight of the pills was 39 grams.  The charge of trafficking takes effect at 28 grams and carries a 25-year minimum mandatory sentence upon conviction.