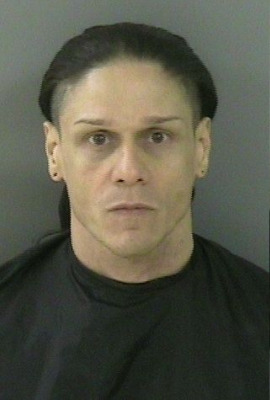 VERO BEACH — The Vero Beach Police Department has arrested one person in connection to an unlicensed body piercing parlor, known as Vampire Tattoos, operating in a home on 16th Avenue.
Authorities from the department's Special Investigations Unit arrested Miguel Acosta, 46, on Tuesday. He has since been released from the county jail on $5,000 bond. The Vero Beach Police Department had received information from the Indian River County Environmental Control Department stating that Acosta may be operating the business out of his home.
After receiving that information, undercover police officer telephoned Vampire Tattoos inquiring about getting a tattoo.  The male who answered the phone stated that his studio was located at 2345 16th Ave. and agreed to meet with the customer.
A short time later the officer arrived at the address and met with a male who was identified as Miguel Acosta.  Miguel Acosta and the officer reviewed photo albums of tattoos he had done and discussed prices.
Acosta also advised the undercover officer that he had a customer coming to his residence later that evening for a tattoo and suggested that he come by.
At 9:30 p.m., the officer returned and met with Acosta, who had just completed a tattoo for a customer and his tattooing equipment was on a desktop.
A few days later, police arrived at Acosta's home and placed him under arrest.