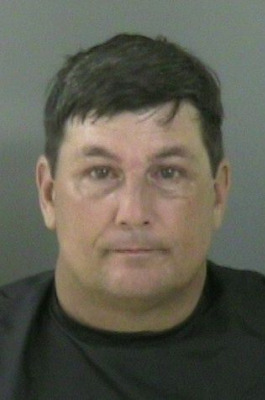 GIFFORD — A south county man was arrested for carrying a loaded shotgun around a Gifford apartment complex, threatening a resident there, authorities said.
The Indian River County Sheriff's Office arrested Frank McCoy, 46, of the 400 block of 13th Lane SW, Vero Beach, on Sunday, after a resident at the Pinnacle Grove apartment complex reported a guy walking through the community while carrying a shotgun.
The person who called told authorities that he was moving a mattress from his second floor apartment when McCoy came "stumbling" up the stairs with the gun. The person said McCoy told him he didn't have any problems with him and continued walking to another unit, where he "racked" the shotgun and banged on the victim's door.
According to the Sheriff's Office, the victim had taken $300 from McCoy and gave it to another person. During the confrontation, the victim tried to calm McCoy down, according to what she told the deputy. McCoy was "wrenching his hands with the angriest look on his face," she said.
McCoy eventually left the woman's apartment and attempted to drive out of the complex when the responding deputy stopped his vehicle.
McCoy faces a felony charge of aggravated assault with a deadly weapon and a misdemeanor charge of openly carrying a weapon, according to his arrest report. McCoy has been released from the county jail on $6,000 bond.