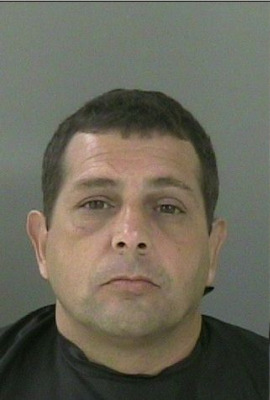 INDIAN RIVER COUNTY – A Sebastian man is in jail after authorities say he was trying to meet with a 16-year-old boy to get photos of him without a shirt and the measurements of his privates to sell to a buyer for $100.
Over the course of five days, the suspect, 43-year-old David Lee Shields, of Sebastian, called the victim 30 times, according to the Sheriff's Office. The victim saved 11 voicemail messages Shields had left for him.
According to the messages left on the phone, Shields and the teen met a month prior at a McDonald's when Shields offered the boy a job detailing vehicles.
The messages also reveal that Shields was trying to meet up again with the teen because Shields had a guy who was interested in getting photos of the boy with his shirt off and he'd pay $100. Later, he told the teen that the guy would be willing to pay $300 to $400 if he'd perform on Web camera for his pay Web site, according to the messages.
After authorities were alerted to the messages, they set up controlled calls between the teen and Shields. During those recorded conversations, Shields let it be known he knew the boy's birthday, which the boy had not told him.
Shields also told the teen that he wanted the two of them to get together, that he would bring cocaine powder and condoms. At one point during a conversation, Shields tells the teen he loves him, according to the Sheriff's Office. He then continues to push for taking the teen's photograph and getting his privates measured.
Shields, of the 700 block of Carnation Drive, faces two felony charges of attempted promotion of a sex performance by a child and attempted sexual activity with a minor, according to his arrest report.
Shields is being held at the county jail in lieu of $500,000 bail.