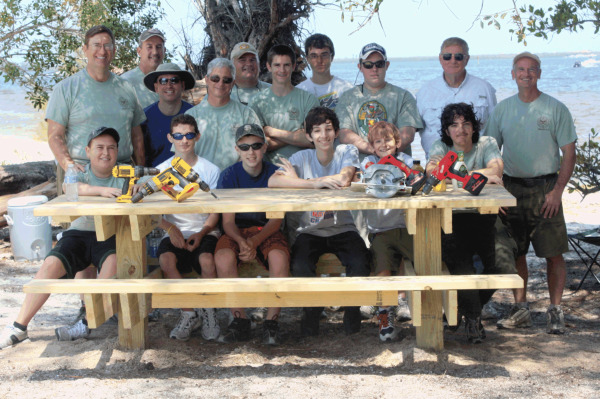 SEBASTIAN — A spoil island in the Indian River Lagoon has a couple more creature comforts to offer campers after a Vero Beach Boy Scout and his troop took over last Saturday to build two picnic tables and two fire pits.
"It was a great project," Eagle Scout hopeful Aaron Nelson, of Vero Beach Boy Scout Troop 513.
On Saturday, more than two dozen volunteers – including fellow scouts and friends – spent their day constructing the tables and fire pits as part of Scout Nelson's attempt to become an Eagle Scout.
At only 15, Nelson is just two merit badges away from attaining that goal – something few Scouts ever attain, and even fewer achieve at such a young age.
"I'm still working on it," Nelson said of making Eagle Scout. He wants to fly up to Eagle before the end of the year so he can earn a specially designed badge in honor of the Boy Scouts of America's 100th Anniversary.
"It's a lot of paperwork, but it's worth it," the Scout said.
Margie Reynolds, of the City of Sebastian's environmental specialist and planner, said it was wonderful having the Scouts at the island to clean it up and build the tables and pits.
"He did a super, super job," she said of Nelson's organizing and implementing the project.
Reynolds said she hopes is this is the start of many more Scouting projects at the city's various spoil islands in the lagoon. Nelson's is the first Eagle Scout project since the city adopted Spoil Island IR-1, earlier this year.
"We had so much fun," Reynolds said of the city's volunteers and hard working Boy Scouts. "It was really awesome."
Reynolds said the spoil island presents ideal opportunities for other Scouts to organize projects to meet the requirements they need to become Eagles.
Reynolds estimated that the Scouts and volunteers logged more than 133 hours working on the island Saturday, much to the pleasure and surprise of a church group that was camping there that weekend.
The group was the second to use the brand new picnic tables on the island – the Scouts being the first, Reynolds said.
Nelson said that he had intended to place both picnic tables nearby because he knew his troop was going to be coming back later this month for a camping trip. However, the church group suggested the second table be placed on the other side of the island to serve another campsite.
He agreed, and the Scouts lugged the lumber and supplies for the table and pit through mangroves and other brush to get to the other side.
Nelson started in Scouts when he was in the third grade. He is now a freshman at Masters Academy and hopes to attend Indian River Charter High School this fall as a sophomore.
"I've learned from so many people," Nelson said of being in Scouts, and has made and kept many friends.
While being in Scouts can be challenging, he said, "It's worth it in the end."