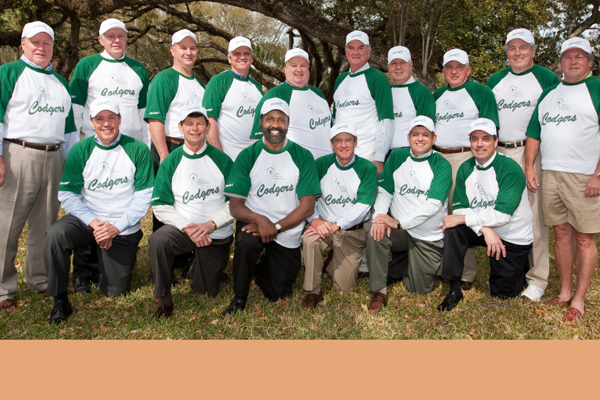 VERO BEACH –Vero Beach National Little League's Croom Dodgers baseball team will take on the Senior Resource Association (SRA) Codgers, Saturday, April 24 at 4 pm in Holman Stadium at Dodgertown in what promises to be a day of energy, enthusiasm and a lot of laughs.  Sponsored and organized by Croom Construction Company, proceeds from the event will benefit SRA programs. The Croom Dodgers range in age from eight to 11 and are coached by Charles Croom. The Codgers, made up of some of Vero Beach's most notable business people, will be coached by Bobby McCarthy of Bobby's restaurant, and managed by Steve Mulvey of Quail Valley River Club.  Joining the group of distinguished Codgers are Bill Curtis, chairman of Seacoast National Bank of Indian River; Bob Gibb, President of John's Island Real Estate Company; Attorney John Moore; and Sheriff Deryl Loar. Eighteen senior local celebrities will take a swing at helping raise awareness for SRA.
Baseball fans will revel in seeing the famed Bruce Froeming and Kirk Koeller umpire the game, while announcer Joe Sanchez will be in the announcer's box. The Silvertones are scheduled to sing the National Anthem.
Gates and concessions open at 3 p.m. and game time is at 4 p.m.
Tickets are $5 each and are available at Bobby's Restaurant and Lounge at The Reef Ocean Resort, Quail Valley River Club, The Alexis Agency at 4445 N. A1A, and Frostings located at 2915 Cardinal Drive. Croom Dodger and SRA Codger players will also be selling tickets.
For more information, call 772.231.5999.
Proceeds will benefit Senior Resource Association programs including Meals on Wheels, Adult Day Care, Social Entrée Meals, In-Home Services, Senior Center programs and transportation.