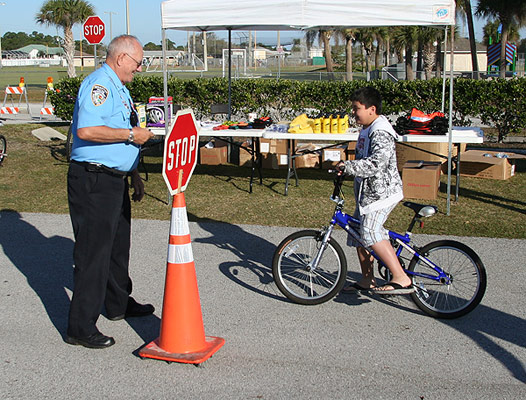 SEBASTIAN – The Sebastian Police Department took over a portion of the Barber Street Sports Complex Saturday morning in an effort to promote bicycle safety awareness for children.
"It turned out to be a great event," Police Spokesman Officer Steve Marcinik said after the Bike Rodeo. Approximately 100 children, with parents in tow, attended the event, learning the appropriate arm signals for turning and stopping and how to properly wear their helmets.
"Some of the kids were initially shy," Officer Marcinik said. "It's amazing what a safety sticker can do. Kids love stickers."
The first kids to arrive on the scene were a pair of siblings who often ride their bicycles around their neighborhood.
"It was easy and hard," said Marian Vu, 11, after riding through the police department's obstacle course. Mid-course, she bumped a cone because she was going too fast, she said.
Marian said she often rides over to her friend's house, Andrew, because he's only a couple blocks away.
Andrew Phan, 12, also tried out the obstacle course and managed to not hit any of the cones.
"It was fun," he said.
Quan Tran, Andrew's father, brought Andrew, and 4-year-old Summer Tran, to the rodeo, along with Marian and her sister, Leyna, 6.
"They ride almost everyday," Quan said. "It's good exercise."
He said he often rides with them around the neighborhood but sometimes has difficulty keeping up.
Quan said he believes the City of Sebastian is relatively bike-friendly.
Officer Marcinik said that the police department has hosted bicycle safety awareness events over the last seven years, though it has been sporadic. The last one was in October 2009.
This rodeo was held with the support of the Florida Department of Transportation, which provided numerous freebies the children could take home with them. The Indian River County Metropolitan Planning Organization and the Citizen Traffic Safety Team also helped.
Officer Marcinik said the majority of bicyclists in the city use their bikes for recreation rather than as their main mode of transportation.
Many young riders, he said, take their bikes to and from school. Whether bicyclists are riding for fun or transport, one thing remains a constant, according to the officer.
"Safety is all the same," Officer Marcinik said.