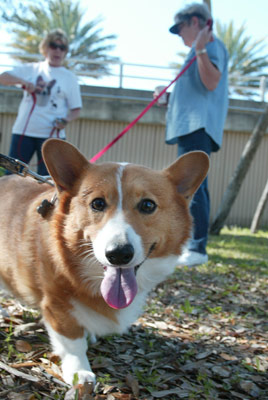 VERO BEACH – Corgis and their human companions traveled from around the county and beyond to reunite and catch up at McWilliams Park in Vero Beach Saturday for their 7th Annual Corgi Roundup.
Seventeen of the short-legged, long-bodied bundles of fur gathered under the trees at the park to sniff, lick and otherwise romp with old and new pals as their humans tried desperately to untangle their leashes. "When you see them out on the street, you notice them," said Corgi enthusiast Phil Freeland. "They're strange looking dogs."
His Corgi, Sir Wiggles, and another, Woosie, got the annual event started seven years ago with a couple of quick barks of recognition.
It wasn't long and Fran Freeland and Bob Gilmore struck up a conversation over Wiggles and Woosie and decided they should arrange a roundup for other Corgi lovers.
"Look at them, they're just different," Gilmore said. "They're a big dog in a small body."
Chris Williams, of Sebastian, brought 1 1/2-year-old Bugg with him to the event, their second time.
"This place is great," Williams said. Corgis, too, are great pets, he said, adding that he had one as a child growing up.
They're good with nearly all ages of people and can be quite energetic. Their small size means they can live just about anywhere, but they need space to burn off energy.
"They love to run," Williams said.
They also make for great security alarms, according to Jim Pedrazzoli, a fellow Corgi fan.
"A Corgi is a watchdog," Pedrazolli said. "They're as ferocious as a German Shepherd."
He has both at home and they both keep watch over the property, alerting him to any strangers that might have encroached on their turf. The Corgi and German Shepherd notified him the meter reader was coming around.
"You don't know who's around your house," Pedrazolli said.
Along with mixing and mingling and catching up with other Corgi friends, the roundup serves as a small fund-raiser for Corgi-Aid, a national non-profit organization that supports Corgi rescue groups.
Those at the annual roundup hold a silent auction of items they donated for the effort. Last year they raised a couple hundred dollars, according to Phil Freeland.
The date for next year's Corgi Roundup at McWilliams Park has not yet been set.