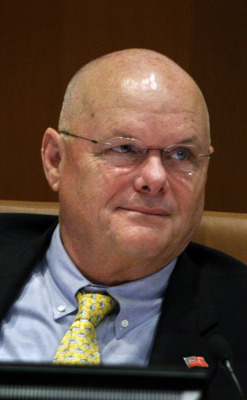 VERO BEACH — While City of Vero Beach top staffers have been talking about possibly providing water and sewer services only to city customers in the future, they have not conducted a single financial study of what such a move would mean.
At present, the City of Vero Beach's water and sewer system serves thousands of barrier island and county customers. But recently, Vero leaders began spreading the word with the city's Utilities Advisory Commission, Finance Committee and the budget task force of the Taxpayers Association of Indian River that the city is looking into only offering water and sewer to customers inside the city limits. County Commissioner Bob Solari, who lives in Vero Beach, said he was concerned that such a plan would mean another 50 percent increase in water and wastewater rates for every Vero resident – on top of the planned 54 percent increases scheduled in the next five years.
So Solari – who in addition to living in the city represents south barrier island residents hooked up to Vero city water and sewer services — submitted a records request to City Clerk Tammy Vock to get the details behind the city's plans.
Four days later, Solari received an email from City Finance Director Steve Maillet.
"This is staff discussion only at this point," Maillet said. "There are no studies, reports, etc."
The absence of studies and reports, however, has not kept city officials from talking up the idea.
Two members of the Taxpayers' Budget Task Force, Paul Teresi and Mark Mucher, said Maillet and City Manager Jim Gabbard had met with them and said the City of Vero Beach could pull back into its borders to serve only city residents with utilities and the city "would be okay" financially.
"What they seem to be planning is to give up the Shores and the South County customers and hunker back behind the city limits," Solari said.
Solari's concern is that if the city lost 38 percent of its customer base (those living beyond its borders), a much smaller number of customers would have to cover the water and sewer system's operating expenses and the cost of system renewal.
"They (the city) did these rate studies and models to come up with what they've got scheduled going forward and now they're going to need to go back and recalculate those models based on losing 38 percent of their customers," said county Utilities Director Erik Olson.
Maillet explained that the city pulling back into its limits is only one of "at least six possibilities the taxpayers of Vero Beach should consider," and said he "mentioned some others at that finance committee meeting."
Maillet continued in his note to Solari, that "the franchises review periods begin in 2011. So it is time for the Vero Beach taxpayers to consider all of the possibilities. The City Council and the City's finance and utilities commissions will, I imagine, have as many meetings as necessary in the next few years to decide the best path for the taxpayers of Vero Beach. Those meetings will generate any number of studies."
All of this was news to Councilman Brian Heady.
"The fact that they have gone and talked to a group such as the Taxpayer's Association and say that they have a plan is a surprise to me," Heady said. "But it's clear that they need to work on what they're going to do, because it's also clear that the county taxpayers are no longer going to pay a premium fee for these services."
Not one to approve any blank checks for consultants or studies, Heady said he did not recall the proposal to pull back into the city limits – or even to study pulling back into the city limits – coming from the City Council.
"I think that what it is is what continues to happen in the City of Vero Beach — that the City Council are the last people to be consulted about things," Heady said. "The staff, the City Manager and the City Attorney are busy cooking up schemes and they present it to council that here's what we're going to do. They move for staff approval and four people say 'aye' and one person says "opposed."
After initially hearing about what the staff had said without the matter coming before the elected officials for a vote or even a discussion, Solari said he doesn't understand why the staff feels that it is free to make policy, when he thought it was their job to carry out policies made by the City Council.
He also said that the policy direction given by staff generally serves to protect the "entrenched interests" at the city.
Despite the fact that top Vero staffers have publicly suggested that the city could pull back into its borders to serve only city utility customers, Indian River Shores and Indian River County are still eager to proceed with a study of all options for future water and sewer service.
On Feb. 25, a joint committee appointed to study efficient and economical options for Vero, county and Indian River Shores water and wastewater customers will interview and recommend a consulting firm to analyze this complex issue.