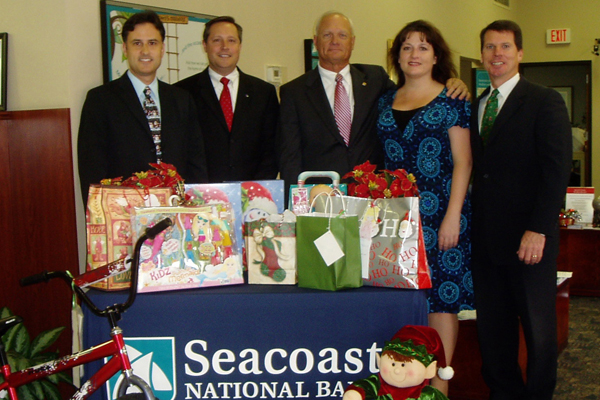 VERO BEACH — Seacoast National Bank employees continued their annual holiday tradition of giving to families in need by donating toys for the Salvation Army's Holiday Angel Tree Program, as well as donating other much needed items.
"Continuing our long time commitment, we at Seacoast give back to the community during this holiday season and especially in consideration of the current state of our economy," explains Anthony Loupe, Regional Retail Manager for Indian River County. "Our bank supports a number of non-profit organizations and our employees have always played an integral role supporting charitable causes."
The Salvation Army's Holiday Angel Tree Program provides new clothing and toys for families in need. As part of the program, Seacoast employees gathered 34 numbered paper angel tags from decorated Christmas trees with the first name, age and gender of the person who would receive a gift and then purchased gifts for the individual's described on the tags.