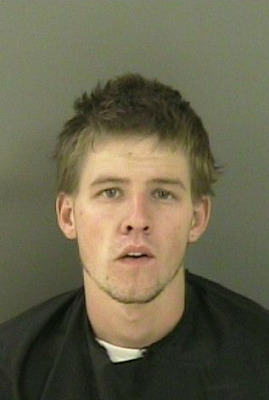 VERO BEACH — A Vero Beach man who claimed his apartment had been burglarized was the one taken to jail for burglary, according to the Indian River County Sheriff's Office, after deputies say he burglarized his neighbor's apartment.
William Elliot McElrath, 21, called the s apartment on 9th Avenue, south of the City of Vero Beach, last week in reference to a burglary. He is now sitting in jail on $50,500 bond, accused of burglarizing two homes and falsely reporting a burglary at his home. McElrath's accounting of the burglary was suspicious, according to investigators, who later learned that his neighbor had reported her apartment burglarized on Dec. 17.
The neighbor told deputies that someone had entered her home through the attic crawl space door located in the ceiling of her bathroom.
Upon investigation, deputies discovered that the drywall was missing from where it is supposed to separate the two apartment units' crawl spaces. Dust and debris littered the floors of both apartments' bathrooms, according to the arrest report.
Deputies arrested 21-year-old McElrath, who then told investigators that he did get into his neighbor's apartment and stole a ring and a bracelet, with a combined value of $5,500, which he then sold to gold buyers at the Indian River Mall for $215, the report states.
While in jail for that burglary, the Sheriff's Office connected McElrath to another nearby burglary that had occurred two days before, on Dec. 15.
According to the Sheriff's Office, McElrath entered a home a couple doors down while the resident was bathing. While there, McElrath took two wallets and a backpack and left the residence.
He took $20 from one wallet and then threw both wallets and the backpack in the bushes on the west side of the home, authorities said.
In all, McElrath faces charges of felony burglary, grand theft, burglary of an occupied dwelling, dealing in stolen property, and misdemeanor false report to law enforcement and theft, according to his arrest report.