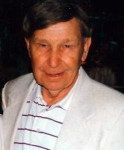 Edward Goreczny, 96, of Vero Beach, died Dec. 1, 2009 at Royal Palm in Vero Beach.
He was born Dec. 7, 1913 in Poland and moved to Vero Beach in 1982 from Ramsey, N.J.
Prior to his retirement he had worked for Wired Cable Manufacture as a Supervisor in Okonite, N.J. He was a member of St. Helen Catholic Church and was the founder of the Polish American Club in Vero Beach.
Survivors include his wife Stefania Goreczny of Vero Beach; stepson Raymond Polawski of Hamilton, Ontario; stepdaughter Irene Teufel of Hamilton, Ontario; five grandchildren and four great-grandchildren.
A Funeral Mass will be celebrated at noon on Dec. 4 at St. Helen Catholic Church in Vero Beach. The family will receive friends from 4-7 p.m. on Dec. 3 at Cox-Gifford Seawinds Funeral Home.
Entombment will take place at Hillcrest Memorial Gardens in Fort Pierce.
Memorial Contributions may be made to the VNA / Hospice Foundation, 1110 35th Lane, Vero Beach, FL 32960.
Arrangements are under the direction of Cox-Gifford-Seawinds Funeral Home and Crematory, Vero Beach, Florida. Condolences may be sent through www.seawindsfh.com/obit.php