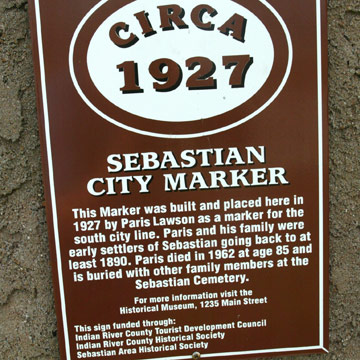 SEBASTIAN — The historical obelisk at Riverview Park has weathered numerous storms during its 82 years of standing at the corner of Harrison Street and Indian River Drive, marking the city's southern border.
But now, the 9-foot tall marker is leaning and needs to be fixed, according to the Sebastian Area Historical Society.
"It just looks terrible," said the group's president, George O'Neill.
Councilwoman Andrea Coy asked City Manager Al Minner to look into what it would take for the city to straighten the historical marker. She expects to hear back next week.
Coy said Friday that the council first heard about the leaning marker several months ago and told the historical group that the city would look into fixing it.
"Hey, how much could it take to fix this thing?" Coy recalled the council thinking at that time.
Then, it was believed the obelisk was solid concrete and, therefore, should be strong enough to withstand being replanted at the corner.
However, the city has since learned that the obelisk is actually a wood and concrete structure and might not be as sturdy as originally thought.
O'Neill said that it is possible that the center of the obelisk could be hollow after all these years due to potential rot or termites.
"I hesitate to touch it," O'Neill said of trying to have the historical society fix it. He said the group could, but he would want the city's blessing before doing anything.
"I'm not anxious to jump into anything and do something stupid," Coy said of the city rushing into straightening the marker.
Instead, a city engineer is expected to look over the obelisk next week and report back.
What has caused the obelisk to lean over is up for debate. Nearby palm trees could be to blame, due to their root systems. Hurricanes, too, could have been the culprit.
At any rate, Coy said that the leaning marker does not pose a public safety risk and is not in danger of falling into the roadway.
The marker was installed in 1927 by one of Sebastian's pioneers, Paris Lawson, to show the south city line.
"Sebastian doesn't have that long a history," Coy said, adding that the city needs to do what it can to preserve what it has.