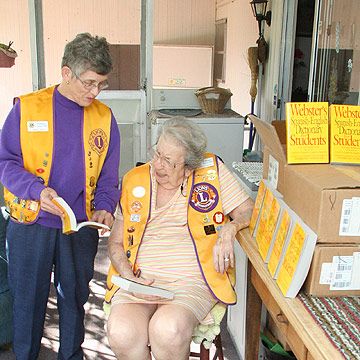 FELLSMERE — Nearly 100 Spanish-English dictionaries will be placed in the small hands of Fellsmere Elementary's third graders when the Fellsmere Lions Club shows up Dec. 2.
"It gives us a great deal of satisfaction," said Fellsmere Lion Sherlee Watt, of being able to donate the dictionaries to the students.
Fellsmere Elementary has a large population of Hispanic students, many of whom are first generation American whose parents either speak very little English or don't speak English at all.
The earlier the students can pick up English, the better equipped they will be as adults, according to Watt.
"I've seen that in action," she said.
Members of the Fellsmere Lions Club will be visiting the third grade classrooms in December to give each student his or her very own dictionary to take home with them and keep.
Principal Barry Sesack said that he is grateful to the Fellsmere Lions Club.
"They've always been there for us," he said of the club.
The third graders were chosen to receive the dictionaries due to the large number of Hispanic students in that grade level whose first language isn't English.
Also, the third graders will have to take their FCAT exam. The dictionaries are expected to help students in their learning.
"They must pass that," Principal Sesack said of the FCAT.
Fellsmere Lion Polly Coe said that fellow Lion Dawn Hannon, CFO for Treasure Coast Community Health, was the one to push the club to donate the dictionaries.
"She's really the one I'd say deserves the credit," Coe said.
Traditionally, the Indian River County Historical Society has been the organization to donate dictionaries to the school. However, this year, the organization did not.
"We thought the Lions Club would take it over," Coe said of supplying the dictionaries.
Attempts to reach the historical society Wednesday were not successful.
"We just appreciate" the donation, Principal Sesack said.
Providing dictionaries to the students is just one of many programs and projects the Fellsmere Lions Club has taken on since it was first founded in the mid-1990s, according to Watt.
"We are a very active club," she said, despite being just 13 members strong.
Anyone interested in learning more about the Fellsmere Lions Club or finding out how to join should contact Membership Chairwoman Margaret Freeman after the first of December by calling (772) 571-1642.