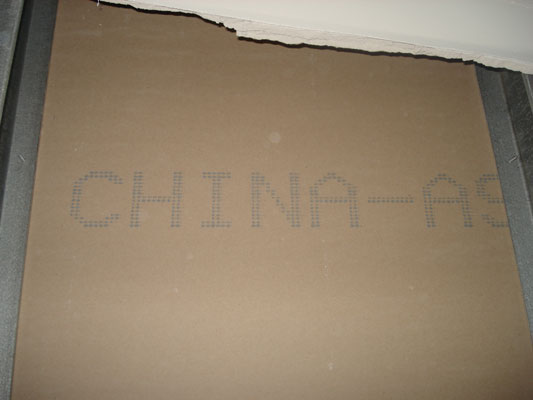 INDIAN RIVER COUNTY — The Hernandez and Morgan families, who bought homes at The Antilles off US 1 just across the Indian River Lagoon, are local examples of families whose health has been impacted by Chinese drywall.
Tripp Hernandez, a Realtor for Dale Sorensen Real Estate, today is in the process of buying a home on the barrier island. The Hernandez family has been living in a rental home for five months. Keith Morgan, a 40-year Vero Beach resident and partner in the accounting firm Morgan, Jacoby, Thurn, Boyle& Associates, also is living with his family in a furnished rental.
Both families evacuated their homes in The Antilles after confirming the presence of Chinese drywall. "Right after we moved in, we could see something happening with the bathroom fixtures, they were pitting and the coils on the air conditioner looked like someone had painted them with flat black spray paint," Hernandez said. "And there was a smell, it wasn't like rotten eggs, it was more like the smell of fresh paint and we just thought it was the smell of a new house."
Or possibly the smell of the $50,000 in new furniture the couple moved into the home – a home they were making for their new baby son, Noah.
"Noah was 4 months old when we moved in and he's been really sick," Hernandez said. "He's had pneumonia twice in a six-month period and his immune system is just about nonexistent."
Hernandez and his wife, Sherri, took Noah to specialist after specialist trying to figure out what was wrong and no one could explain what was happening — how a healthy baby could deteriorate like that for no apparent reason.
Sherri Hernandez was suffering from terrible headaches and Tripp Hernandez said his blood chemistry was very abnormal while living in the house. Fortunately the family's health has bounced back. Their finances, however, are permanently damaged.
Hernandez said many of the affected homes in The Antilles have been selling for about one-third the value and that buyers are gutting them down to the studs and starting from scratch. He said Ironwood Properties, the builder of the Antilles, is a quality builder and he bought his home on developer Cary Glickstein's  reputation for building great communities in Palm Beach County. However, he said the builder has been unresponsive to complaints from Antilles residents.
"I don't think anybody purposely put Chinese drywall into homes," Hernandez said. "They just needed the materials and that was the product available at the time, so they used it. Nobody knew back then what it was going to do."
The government is also confused about which department is responsible for patrolling for Chinese drywall and hunting down those who sold it and installed it. Is it a public health issue, a building code issue, an economic issue or a consumer issue?
Hernandez said he's seen the most hope and voice on Chinese dry wall come out of U.S. Senator Bill Nelson's office.  He said Nelson has "beat the drum" on Chinese drywall, since Florida reportedly has more than one third of the estimated 100,000 cases in the nation.
The Morgans bought their Antilles home in February 2007 and moved in October 2007. Morgan said the situation he finds himself in was completely unavoidable. "We did our due diligence," he said. "I can honestly say that there is nothing I could have done differently or anything else that I could have checked. This is happening at all levels of society, it's happening to everyone."
The health problems both were having were the first clues.
"Shirley started having headaches 24/7 and I was just having various symptoms, my eyes were burning, my skin was burning and I was having respiratory problems at night," Morgan said."We noticed that if we went away, even for a long weekend, that the symptoms started to clear up."
In time, the house started to reveal its own symptoms.
"In March, we kind of started to put it all together, the corroded coils, the black jewelry and silverware, even the deterioration of some of the mirrors," he said. "But it was the health issues that finally dictated that we leave the house."
The Morgans are pursuing legal action to try to recoup some of their losses and come up with a plan to repair their home.
"We eventually want to get back into the house, we had planned to live there until we have to go to a nursing home, which I don't anticipate to be anytime soon," he said. "What we're hoping for is for the government to develop some sort of protocol to follow so that when we do the remediation, we can say we followed the protocol established by the state or federal agency and so we can preserve some of the resale value of our home."