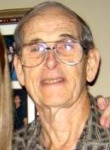 Donald S. Hine, 83, of Vero Beach, died Tuesday, Nov. 3, 2009 at the Indian River Medical Center.
Mr. Hine was born Feb.  27, 1926 in Columbus, Ohio and moved to Vero Beach 56 years ago from Ira, Ohio. Prior to his retirement he had worked for Piper Aircraft in Vero Beach for 31 years. He was a veteran of WWII serving in the Pacific Theater while in the United States Navy.  Mr. Hine was a founding member of Faith United Fellowship and a volunteer at the CareNet Pregnancy Center, Faith United Fellowship and The Source in Vero Beach.
Survivors include his sons Dennis L. Hine and Gordon K. Hine both of Vero Beach; daughter Amy Heiserman of Washington, Pa.; sisters Dolly Mitchell of Bath, Ohio and Carolyn Grizante of Vero Beach; and two granddaughters Angela Hine of Vero Beach and Rachael Hine of Sydney, Australia.
Memorial contributions may be made to the Faith United Fellowship Missions Department, 186 27th Avenue, Vero Beach, FL 32968.Arrangements are under the direction of Cox-Gifford-Seawinds Funeral Home and Crematory, Vero Beach, Florida.  Condolences may be sent through www.seawindsfh.com/obit.php