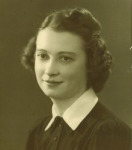 Mrs. Ruth Banks MacKay, 94, died Oct. 24, 2009 at Florida Baptist Retirement Center, Vero Beach.
She was born in South Norwalk, Conn., and lived in Vero Beach for 25 years.
She was a former member of the Spanish Lakes Association, Fort Pierce, FL.
Survivors include her son, John MacKay of Vero Beach. She was preceded in death by her husband, David in 2005.
Funeral Service will be 11 a.m. on October 30, 2009 at Strunk Funeral Home. Interment will follow at Lakeview Cemetery, New Cannan, Conn.