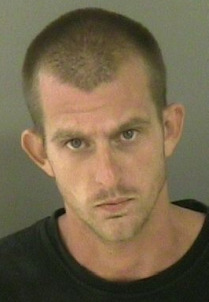 By Debbie Carson, Online Editor
INDIAN RIVER COUNTY — A south county man who said he was shipping Halloween candy to a relative in Massachusetts ended up in jail instead. Authorities said the package he was mailing contained 125 Oxycodone pills.
The Indian River County Sheriff's Office arrested Kyle Decker, 26, of 1015 33rd Ave. SW, on Tuesday, Oct. 27, on a charge of trafficking in Oxycodone over 14 grams. He is being held on $100,000 bond.
According to the arrest report, Decker dropped off a package at a UPS store, telling the clerk that it contained Halloween candy for a relative.
The clerk didn't buy the story and told the manager that Decker looked "to be on drugs and was acting suspicious," the report states. However, the employee accepted the package and Decker left.
The manager notified the Sheriff's Office, which told him that he did not have the "legal right or reason to open the package in any way." The manager disagreed, citing UPS's policy that does allow the store to open any packages they are to ship and that there is a sign posted notifying customers of that policy.
The manager then opened the package and found a red coffee container with a clear plastic bag inside. The bag was holding numerous green and blue pills, the report states.
The deputy who responded to the UPS store went to Decker's home and arrested him on the drug charge. Once arrested, Decker told the deputy that he was shipping 125 pills to a relative in Massachusetts.