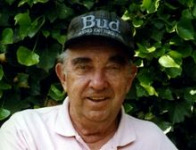 Edward Warren Lewis, 87, died peacefully at home in Sebastian on October 18, 2009. He was born on August 14, 1922 in Barretown, N.Y. to Edward and Irene Maxim Lewis. While serving in the Army Air Corp during WW II he met and married Clementine Abatiello of Rutland, Vt. Ed began his career with IBM in 1948 and rose through the ranks to become second shift superintendent at the Essex Junction plant in Vermont. Ed and Clementine raised three daughters, Joyce, Pat and Moe in South Burlington, Vt. He was an avid hunter and fisherman. Ed was a member of John Ryan Post 1767, Veterans of Foreign Wars, Winooski, Vt. He eventually served as Vermont state Commander of the VFW. He was a member of St. John Vianney Catholic Parish in South Burlington.
Ed and Clementine began vacationing in Sebastian and upon Ed's retirement from IBM in the '80s moved there and returned each summer to the lake camp in Vermont. Ed continued his service to others in Florida through his continued membership in the VFW; volunteering with the Red Cross to drive veterans to hospital appointments and helping Pelican Island Preservation Society (PIPS) with trail and refuge cleanup. He was a member of St. Sebastian Catholic Parish.
Ed is survived by his wife Clementine; daughters and spouses Joyce and Carl Roof of Woodstock, Vt.; Patricia and Peter Caverzasi of Tappan, N.Y. and Moe and Mark Lewis-Wolf of Barre, Mass.; brothers and sisters and their spouses Tom and Norma Lewis of Germantown, N.Y.; Jack and Joan Lewis, Barbara Lewis and Irene and Jesse Riley of Rhinebeck, N.Y.; Bill Lewis, Joyce and Dick Cole and Jean Horkan of Red Hook, N.Y.; Kay Kirkland of Leesville, La.; 10 grandchildren  and 2 great grandchildren.He was predeceased by sisters Dorothy Lewis and Shirley Kocker and by grandson Joel Roof.