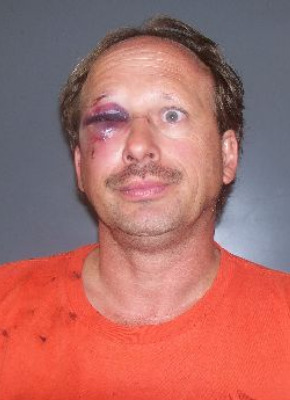 By Debbie Carson, Online Editor
INDIAN RIVER COUNTY — A Vero Lake Estates man is nursing a blackened and swollen eye after a neighbor caught him looking through a window at a teenage girl watching TV, according to authorities. The man blames an "unexplained urge" as the reason for going up to the window and peeking in.
Brian Lee Freese, 43, of 8885 101st Ave., was arrested Thursday, Oct. 22, on charges of voyeurism, battery, trespassing and loitering/prowling. He told authorities that he was walking his dog when he saw a bare window at one of the houses he passed by and that he walked back to the window due to an "unexplained urge," the arrest report states.
According to what a witness told authorities, the witness saw Freese enter the backyard of a house and stop in front of a window. The witness then saw Freese stick his hand in his pants and touch himself inappropriately.
Inside, a 13-year-old girl could be seen watching TV, the report states. However, the girl was unaware that she was being watched.
The witness approached Freese and asked him what he was doing and told him that he was calling the police. Freese tried to leave, but the witness punched him in the face, the arrest report states. A scuffle ensued, during which Freese grabbed the witness by the throat and the witness punched Freese a couple more times in the face.
When authorities arrived, Freese told them that he had walked behind the house because his dog had gotten loose — but when asked how the dog got away when the dog has a collar and leash, Freese couldn't provide an answer, according to the report.
Freese has been released from the county jail on $2,000 bond.