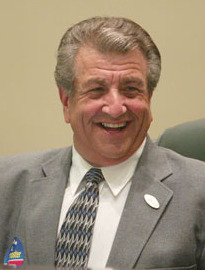 Name: Al PaternosterAge: 58Length of residence in Indian River County: 8 years in Sebastian (permanent); Visiting and vacationing since 1975Occupation: Retired Police OfficerMarital status: MarriedChildren: 3Grandchildren: 3Spouse's name: Diane
Experience you feel is most relevant to serving in public office and why:
Former Councilman City of Sebastian: 2006 to 2008Stormwater Management Inspector – Certified and Licensed by Dept. of Environmental ProtectionGraduate of the Advanced Institute of Elected Municipal Officials – Florida League of CitiesFormer Police Union PresidentIndependent of any other Candidate
Background:
Criminal JusticePublic Sector Labor Management RelationsTraffic EngineeringCertified Instructor Dept. of Criminal Justice and Police Training Commission (New Jersey)Former Adjunct Instructor at Northwestern University Traffic InstituteFormer member – Indian River County Metropolitan Planning OrganizationFormer member – Indian River County Tourism Development CommitteeFormer member Sebastian Facade, Sign & Landscape Committee
Civic and Volunteer Leadership Experience:
Former President of Sebastian Property Owners AssociationFormer Vice Chairman of Sebastian Community Redevelopment Advisory CommitteeFormer member Sebastian Citizens Budget Review CommitteeAvid Volunteer for Sebastian Clambake Festival & Christmas ParadeNominated Sebastian Man of the Year in 2006
Candidate Questions
1. What is the biggest challenge facing Sebastian?
(1) Employment for our citizens  (2) Retaining our businesses and encouraging new business (3) Restructuring of the restrictive codes and regulations responsible for relentlessly encumbering the establishment of new business in our city and inhibiting free enterprise, thereby depriving our citizens of the benefits from resultant tax revenues.
2. What is your vision for the Sebastian Riverfront area and what steps need to be taken to achieve that goal?
My vision is a picturesque historic fishing village setting with small shops and food establishments, conservatively priced, especially for people with children. A place where people can boat, fish, walk or just sit and take pleasure in the area while dining or just enjoying some light refreshments.  There are a number of ways to achieve this goal. Initially, this would begin with input from our citizens as to what they would like to see. This compilation of ideas from our citizenry was embarked on several years ago and is referred to as the "Charrette." The ideas contained in this document depict much of what I have in envisioned for the riverfront. Sadly, over time, little has been done to achieve this goal. Diligent and strategic research by the city and council would follow combining our existing businesses into that of other free enterprise establishments. The challenges existing on our Riverfront are economic and lack of available land.
3. What is your position on CRA (Community Redevelopment Area) expenditure allocations in terms of how much is spent in business incentives and infrastructure improvements?
Allocations for the CRA are obtained from the city's general fund and closely matched by money from the county's general fund, known as Tax Increment Funding. In my opinion, little has been spent in business incentives.
Business has been diminishing due in large part, to restrictive codes and regulations. The city recently spent a sum of $46,200 of CRA money to erect three billboard signs on Interstate 95 for a period of 13 months. These signs are reportedly installed to attract potential tourism to the area. However, we have little to offer at this time for tourists to do once they arrive. I am concerned that, once arriving, potential tourists will be disillusion and tell others not to come to Sebastian. The city spent $2 million, part of which was grant money, on purchasing property and building boat parking spaces. The problem is that we already had the parking spaces and in reality gained nothing. This was an unnecessary function at this time and the money could have certainly been used for more important issues in the CRA. These are classic examples of placing the cart before the horse.
4. One of the city's efforts currently is to attract new tenants to the Sebastian Municipal Airport. If elected to council, what would you do to continue or change those efforts?
During my previous tenure on city council, I am proud to say that I was instrumental in bringing Lopresti Aviation to Sebastian Airport. This is a 30-year-old, family owned aviation manufacturing business that was contemplation leaving the state along with 25 employment positions. As a representative of the city and a pilot, I attended most open to the public meetings they offer each month and worked ardently on council to make the move happen. I would continue to work in this capacity to entice more business to the airport, as this area is basically all the property that Sebastian has to offer for new business.
5. What is your opinion of the Sebastian Clambake and how proceeds are delegated?  What, if any, changes would you like to see for the annual event?
 The Clambake is a wonderful event and since its inception, my family and I have volunteered countless hours cooking and serving. I believe proceeds from these festivals have gone to noble causes.
While the theme of the event is seafood, I have seen where people who have other tastes or food allergies appear to be disappointed when there is no other variety of food. I would suggest that the committee offer a small diversification of food along with different types of frying oils so all can enjoy the festivities. In addition, perhaps the clambake committee, along with their annual search for a clambake theme from the general public, could conduct a survey of the public to learn where they would like to see the proceeds donated.
6. Are there possibilities for partnerships or efficiencies by working with Fellsmere, Vero Beach or the county? If so, how would you like the city to work with those entities?
Yes, however they would need to be considered on a case-by-case basis.