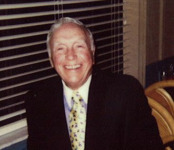 Frederick G. Doran died October 10, 2009 at VNA Hospice House in Vero Beach, Florida surrounded by his wife and family, after a long illness. He was 83 years old. A current resident of Vero Beach, he lived in Raynham Mass., and West Falmouth Mass., and practiced medicine in earby Taunton Mass.
Dr. Doran was born on March 6, 1926 in Somerville, Mass.  and attended Boston University as an undergraduate. He graduated from the Boston University School of Medicine in 1955. He remained an active alumni member of the BUSM throughout his life. Dr. Doran began his surgical career at Boston City Hospital in Boston before joining the staff of Morton Hospital and Medical Center in
Taunton as a General Surgeon. In his long career, he served as both Chief of Surgery and President of the Medical Staff at Morton. After retiring from active practice, Dr. Doran continued to serve in Morton Hospital's Occupational Health Department.
An avid enthusiast of gardening, music, and history, Fred Doran was also a lover of travel, with Russia, Machu Pichu, Peru, and Spain on the list of the many locations he visited.
Dr. Doran settled in the Vero Beach area with his wife, Jeanne, in 1998. He was a member of the Vero Beach Yacht Club and the Grand Harbor Golf and Beach Club.
Dr. Doran is survived by his loving wife of 53 years, and four children, Susan Ryan of Hingham, Mass., Captain Rick Doran, US Navy (ret) of Virginia Beach, Va., Captain David J. Doran, U.S. Navy, of Arlington, Va. and Maureen Doran of Boston, MA; and six grandchildren.
Memorial contributions may be made in memory of Dr. Frederick G. Doran to:
Boston University Medical School72 East Concord Street
Development Office, L219
Boston, MA 02118
Visitation will be 4 to 7  p.m., Oct.  22, 2009 at Strunk Funeral Home.
A Mass of Christian burial will be celebrated at 10  a.m. on Oct. 23, 2009 at Holy Cross Church.