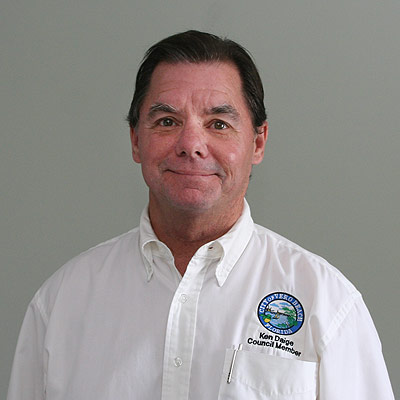 Name:  Ken DaigeAge: 56How long living in Vero Beach: 35 years in the area; 21 in Vero BeachPlace of Birth: East Hampton, New YorkOccupation: President/Co-Owner Quality Kitchens & Baths, Inc.Marital/Family Status: Married for 33 years to my wife and partner Deborah, two grown children, and one "grambaby."
Please list Civic and Volunteer Leadership Experience including title & position and Organization including dates and locations.
Member of the Indian River County Economic Development Council EDC
Member of the Indian River County Tourism Development Council
Member Treasure Coast Council of Local Governments
Appointed to Vero Beach City Council January 14, 2010
Have attended most Vero Beach City Council regular and special call meetings, Finance and Utility meetings, most Planning and Zoning meetings, and other board and commission meetings since November 2008 till January 2010.
Member on the City of Vero Beach 90th Anniversary Committee 2008
Participated in the 'Help Plan Your Future Transportation System' public workshop 2009
Participated in Your Town-Fellsmere, Florida-A Citizens Institute on Rural Design 2009
City of Vero Beach City Council Member 2006-2008 (did not miss any meetings) 
Florida League of Cities Institute for Elected Officials 2006
Florida League of Cities Advanced Institute for Elected Officials 2007
Chairman of the Elected Public Officials Oversight Committee 2006
Indian River County Parks and Recreation Committee-Vice Chair 2007-08
Indian River County Affordable Housing Advisory Committee 2008
IRC Enterprise Zone Committee Member 2006-07
Member Florida League of Cities Home Rule Council 2006-07
Metropolitan Planning Organization Board 2007-08
Attended MPO Advisory Council Weekend Institute for Elected Officials 2008
Attended FAU Florida Public Officials Design Institute at Abacoa
Attended the Governors Hurricane Conferences 2006-07
Attended Downtown-Smalltown Conferences 2007-08
Attended the Governors Tourism Conference 2008
And various Sunshine Law, Ethics, Employees Relations, Board and Commission classes 2006-08
City of Vero Beach Charter Review Commission 2005
Indian River County Participant Visions 1992
Treasure Coast Builders Association:
Indian River County Membership Chair 1991-93
1992 My wife and I received recognition from the Indian River County Board of County Commissioners Department of Emergency services for volunteering time, services, equipment and goods after the devastating Hurricane Andrew. We were part of the relief effort at the Redlands Migrant Camp in Florida City, Dade County.
We also coordinated with the Indian River County School Transportation Division for school buses that transported volunteers from Indian River, St. Lucie and Martin Counties.
Board of Directors 1993-94
Received Certificate of Appreciation from the Treasure Coast Private Industry Council 1993
Vero Beach High School Band:
Volunteered as needed 1993-97
Fund Raising Chair for Arizona Trip 1995
Equipment Chair 1994-1997
Football Concession Co-Chair with wife Deborah 1994-1997
Dodgertown Concession Co-Chair with wife Deborah 1994-96
Chaperoned 1993-97
Red White and Blue Concert Volunteer
Vero Beach Junior High:
Volunteered as needed 1991-95
Board of Directors
Concessions Chairman 1994-95
Fundraising, Chaperoned,
Equipment Chair 1993-94
Various other leadership positions
Gifford Middle School Band: 
Volunteered as needed 1988-93
Equipment Chair
Gifford Middle School:
Volunteered as needed 1988-93
Chaperoned
Beach clean-up
City of Vero Beach Recreation Department Sandlot Basketball 1990
Rosewood Elementary:
Volunteered as needed 1986-88
Chaperoned
Began Local Cub Scouts Troop at Rosewood 1986
US ARMY 82nd Airborne, Honorable Discharge 1984
What issues motivated you to run for this office and what do you hope to accomplish during your term?
I respect public office and am true to the best interests of the residents of Vero Beach. I have taken the time to educate myself for public office and have the qualifications and experience to lead the City into the future. Issues such as quality of life and how is it paid for, what services do the citizens of Vero Beach want and at what cost are a driving force in residents decision making. Voters have the right to expect good government that addresses the concerns of the present hour as well as planning into the future. I have and will continue to carefully respect the taxpayers money and ensure less tax pays for quality and quantity.
What is your position on the potential sale of the Vero Beach electric utility? If the price and conditions were right, would you support selling? What would keep you from supporting a possible sale?
The current City Council voted 5-0 to allow FP&L to do due diligence; FP&L is in the process of that due diligence. After that due diligence FP&L and the City Council will discuss the options available. To quote: 'Any possible utility system purchase is a complex undertaking that requires careful consideration, and it can be a very lengthy process. In order for us to proceed, it would need to be the right decision for our existing customers and for the customers of the Vero Beach electric utility system.' Amy Brunjes, Juno Beach, external affairs manager for FP&L. (quote from public record correspondence between FP&L representative, Amy Brunjes and The City of Vero Beach).
Do you support considering the possibility of merging the city's water and sewer system with that of the county's? What factors would you consider in making a determination whether or not such a merger should happen?
If it benefits the residents of the City of Vero Beach or is absolutely necessary for public health or is truly cost saving. I ask – What services do Vero Beach residents want and how do they want to pay for them? Do the residents of Vero Beach want to merge services with Indian River County?
The city is currently looking for a new City Manager to replace out-going Jim Gabbard. What qualities would you look for in a viable candidate?
Including the criteria on file for the city manager job description and requirements expressed by the City of Vero Beach Charter, the ability to do their job without outside pressure. To be able to present local ideas and issues to City Council without a preconceived outcome. To respond to employee issues based on merit and not who-is-who in the community. To be open and unbiased before, during and to completion of issues presented to the City Council. To have a vested interest in the well-being of Vero Beach and her residents.
How do you plan to work with Councilman Heady if elected to the dais?
Councilmember Heady is a duly elected official. I treat him with the respect that should accompany the office. All five Council members have the same power of the office. The goal is to work with each other for the best interests of the citizens. The position is not about the individual but rather about the citizens we as a whole elected body represent.