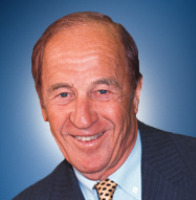 VERO BEACH — If you ever wondered who is the richest person that calls Indian River County home, it is, drum roll please, 92-year-old Albert Lee Ueltschi, who spends his winters on the barrier island with an estimated net worth of $1.65 billion.
Ueltschi, who founded Flight Safety International, was listed at No. 212 in Forbes' list of "The 400 Richest Americans 2009." Also on the list with ties to the county is New York-based Peter Peterson, who owns a home in Windsor and as co-founder of the Blackstone Group has a net worth of $2 billion. He is listed at No. 158. Ueltschi  began his flying career by opening a hamburger stand at the age of 16 to obtain the cash to take flying lessons in his hometown of Frankfort, Kentucky. He  joined Pan Am in 1941 as the private pilot of Juan Trippe, who was an associate of Charles Lindbergh.
According to Wikipedia.com Ueletschi is considered to be the father of modern aviation and in 2001 was enshrined in the National Aviation Hall of Fame. Ueltschi is said to spend the warmer months  still working at the FlightSafety's headquarters at the Marine Air Terminal at LaGuardia Airport in New York. He stepped down as President in 2003, but retained the title of chairman.
Ueltschi and Peterson are not the richest Americans on the Treasure Coast, that title belongs to former Miami Dolphins owner H. Wayne Huizenga, who was No. 154 on the list with a net worth of $2.1 billion. Also on the list at No. 236 was Michael Heisley, who lives on Jupiter Island and is worth $1.5 billion. Heisley has among his holdings the Memphis Grizzlies.