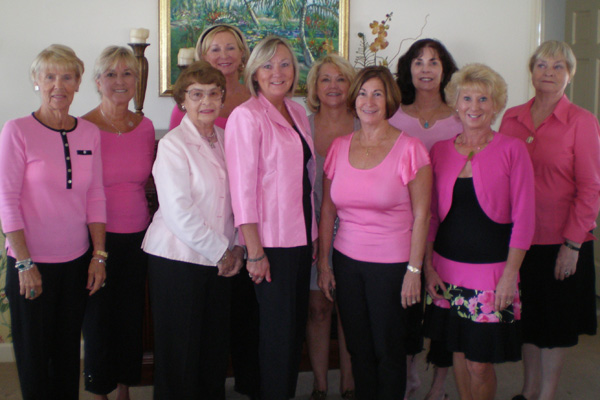 Make plans now to shop till you drop at Girls Night Out, a special evening of boutique shopping to benefit Hibiscus Children's Center. The event will take place from 6-9 p.m. Thursday, Nov. 5 at the Holy Cross Parish Hall. Approximately 25 unique vendors will be present, providing shoppers an unmatched opportunity to get their holiday shopping done all in one place!
Tickets are $25 and include admission, complimentary hors d' oeuvres and wine, a Girls Night Out shopping bag, and many chances to win superior raffle items and a premier door prize. Due to the popularity of this event, tickets are expected to sell out fast.
Special thanks go to committee chairs Sybille Ludwig and Nancy Hendricks and their hardworking committee of volunteers for their months of planning this exciting evening. The event would not be possible without the help of our top sponsors, including Divine Animal Hospital and Steve, Stacey and Brian Barnett. Extra special thanks go to our food sponsors, including Lobster Shanty, Riverside Café, Bobby's, Mulligan's, Bent Pine Country Club, Waldo's, Ocean Grill, Nino's, Mrs. Macs and Hurricane Wings.
The evening will feature many unique and exciting vendors including Twirl, Christine, Dream of Italy Designs, Faith, Hope and Chocolate, Dee Rochelle, Embellishments, Pineapple's, Elegance by the Sea, Pampered Life, Rod Mickley Interiors, Silk, Tootsie's, Captain Hiram's Resort Shop, J McLaughlin, Shells and Things, A Bead Above, S&K Limited, Tea and Chi, and several one-of-a-kind specialty booths featuring jewelry and home accessories.
Hibiscus Children's Center has been working to prevent child abuse, neglect, and abandonment in our community for over 20 years. With residential care facilities, foster care licensing and training, a state-of-the-art Child Development Center, mental health services and family support programs, Hibiscus is truly making a difference in the lives of children who need it the most.
 Information:  Call Angela Astrup at (772) 978-9313 x 313.