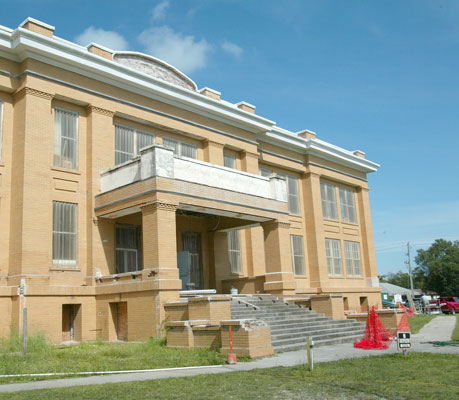 By Debbie Carson, Online Editor
FELLSMERE — Most of the hard work is done at the Old Fellsmere School, according to the project manager – several months ahead of schedule. The $3 million renovation project at the school is expected to be complete in the coming months and the school to open sometime in December or January.
"We're buttoning it up now," said project manager Karl Hartman, of Doug Wilson Enterprises. Crews are beginning to patch up the walls, and will eventually paint, hang trim and lay tile.
"It's an aggressive schedule," said City Manager Jason Nunemaker while walking through the construction zone. During the course of renovating the interior, Hartman and his team have found various artifacts of the past.
One such relic is a piece of yellowed paper from 1920 that has a schoolgirl's math homework on it, according to Hartman. The paper was found behind a blackboard along with several bobby pins.
Another piece of history was a small bouquet of craft paper tulips, the kind teachers would keep atop their blackboards.
"It really threw me for a loop," Hartman said, recalling seeing such tulips in his own grammar school classrooms.
Doug Wilson Enterprises, of Cape Canaveral, was awarded the project in 2008 and was tasked with the challenges of bringing the old schoolhouse up to fire code and making it ADA accessible.
Later this month, the Fellsmere City Council plans to hold a workshop to flesh out details for the site, including signage and parking.
Nunemaker said that one of the challenges the city faces with the project is keeping enough of the property surrounding the school open for such community events as the annual Frog Leg Festival. Tens of thousands of people descend upon the park area near the school for the festival.
The city and contractor also have had to deal with water issues on the site and have plans to create a wet retention pond area that will resemble a pond or small lake.
The Old Fellsmere School will incorporate both city functions and community uses, according to Nunemaker. And, for the first time, the Indian River County Boys & Girls Club will be able to serve children in Fellsmere.
The club will have space in the basement and the first floor of the school. Officials from the club were unavailable Tuesday for comment.
The Old Fellsmere School's construction was completed in 1916 and was built with a budget of $40,000.
"It would be eight times that cost today," said project manager Karl Hartman, of Doug Wilson Enterprises.
"The thing is built like a rock," Hartman said. "They kept it simple."
The school's architecture is credited to Frederick Trimble, who designed the school in what architects call "prairie style." Trimble also designed 50 other schools and various hotels throughout Florida.
"Whoever built it did a darn good job," Hartman said.