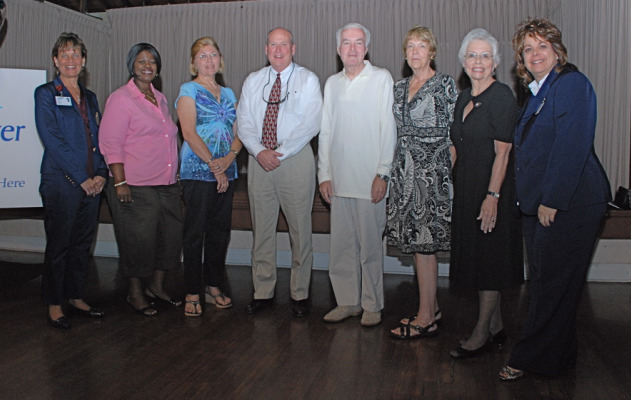 INDIAN RIVER COUNTY — Indian River Medical Center hosted the monthly Indian River County Chamber of Commerce Breakfast at the Heritage Center recently with seven special guests who were ready to tout the benefits of their bariatric surgery.
Combined, the seven men and women, two of whom are IRMC employees, have lost a total of 775 pounds since their weight-loss surgery. More than 125 business people in the community – the largest number attending the breakfasts so far this year, according to Chamber officials – received pedometers, a body mass index chart and an information sheet about the Treasure Coast Bariatric program at their place settings. As part of the round table session where each businessperson spend three minutes talking about his or her company and services, the bariatric patients at the tables shared their personal experiences and life-changing weight loss.
Theodore G. Perry, M.D., medical director of the bariatric program, spoke about the health changes in patients after they lose weight, including the eradication of diabetes and in many cases high blood pressure, high cholesterol and sleep apnea. Barb Horne, VP of Support Services and Human Resources, spoke about the financial benefits to a company after an employee experiences weight loss through surgery. One employee was tardy to work 77 times in the year prior to her surgery and was not tardy one time post-surgery.