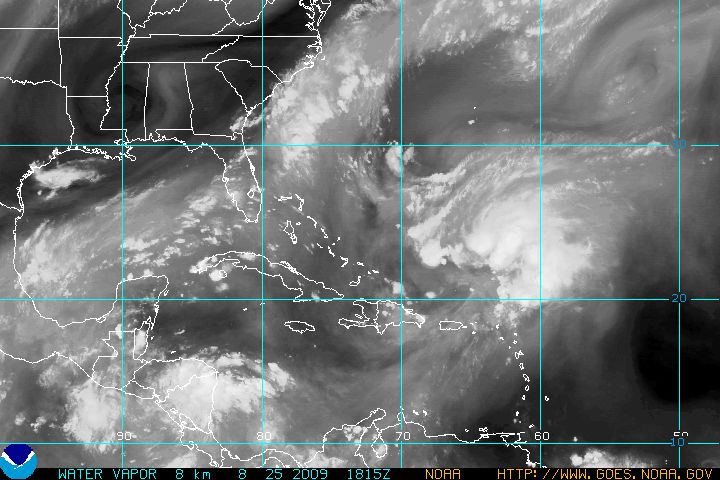 By Nathan McCollumA large area of convection continues to move west-northwest at 20mph. The area is located north of the Leeward Islands and continues to remain intact. While no closed circulation has been identified on the satellite images, Air Force Reconnaissance is on the way to search for a surface low pressure. Wind shear continues to impact this area, however the shear is expected to weaken over the next 24 hours. Therefore, this convection area could easily become a tropical depression or storm within the next 24 hours. The reason for this early advisory (not usually produced until a tropical cyclone develops) is because of the proximity to Florida. The early forecast projections do not indicate any landfall threat to Florida. But, the models do not have a center to develop a forecast and often the projections will change once a depression develops. A stationary front over northern Florida should prevent any approach by this area of convection. I should mention that if this convection area does develop into a depression, high seas and rough surf will occur throughout the east coast of the United States.
 The attached visible satellite picture shows a good amount of upper level wind shear as the northern convection area continues to be blown away from the main area. The attached infrared satellite picture shows three areas that could be developing a surface low pressure. Plenty of thunderstorm activity exists for this to become a depression. The attached water vapor picture shows the stationary front over northern Florida. If this front remains stationary, it would block any approach by this system towards Florida. It would be a timing issue.
 Everyone should remain aware of this area of concern. At this point, the major concern for Indian River County will be surf conditions towards the end of the week. For now, we will monitor and update should a tropical cyclone develop.