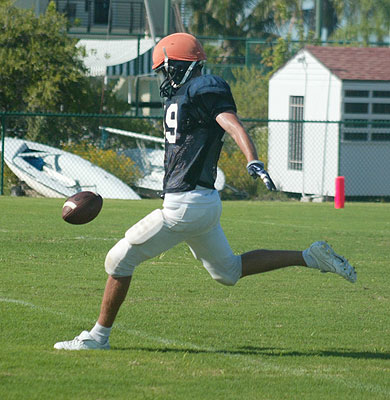 VERO BEACH — After a winless 2007, last year was a season of growth for the St. Edward's football team. The Pirates dropped their first six games, but rallied to win three of their next four to finish 3-7 and spark hope for a strong campaign in 2009.
 "This is a group of kids that got forged by the fire," Coach Brad Fojtik said. The Pirates are dropping down in class this year and are playing six home games (up from five last year). "We'd like to compete at the district level, and I feel we're right there," Fojtik said. "Stepping down into 1-B and playing other college prep schools our size will help. We were road warriors last year and had to travel over a combined 1,000 miles for our first three road games.
 "We have a large class of seniors, and I'm real excited about the opportunity for them to play more games in front of their fans."
 The Pirates return 10 offensive starters this year, along with eight on defense. With the addition of coaches Lou Ferrari and Bill Motta, the team looks to dramatically increase its intensity of both sides of the ball. "Coach Ferrari brings a crazy amount of football knowledge to the table," said Fojtik, who is starting his third year as St. Edward's head coach. "He's tweaked our playbook and added several new plays to our existing offense. Coach Motta is a defensive guru. What he's done at VBHS and with his own son (Zeke Motta is a freshman linebacker at Notre Dame) speaks volumes about his abilities as a coach."
 Two players St. Edward's will lean on this year are seniors Cameron Budde and Jacob Fojtik. Budde, the son of running backs coach Greg Budde, was the team MVP the past two seasons. He led the team in rushing (656 yards) and in tackles (131) in 2008. Fojtik, who played on a broken leg for half the season last year (it was misdiagnosed and thought not to be a broken leg), is ready to contribute heavily at tight end on offense and any one of seven positions on defense. Fojtik is the son of the head coach.
 Junior quarterback Collier Proctor is returning to lead an improved offense that averaged about 10 points per game in 2008. On defense, senior linebackers Kollin Kite and Michael Lamos combined for 188 tackles last year. Chris Barbato, also a senior, looks to add to his five interceptions at defensive back.
 To be sure, the Pirates are poised for a breakthrough. St. Edward's is a team to watch this year, and a good bet to at least double their win total from last year.