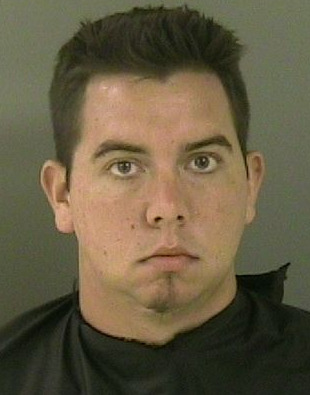 By Debbie Carson, Online Editor
INDIAN RIVER COUNTY — A Vero Lake Estates resident was arrested, accused of burglarizing, vandalizing and trying to burn another Vero Lake Estates home after footprints led detectives to the suspect.
Deputies responding to a 911 call to the 8100 block of 99th Court early Sunday found the house in shambles – sustaining an estimated $25,000 in damage.
Toilets were smashed, flooding the house with three inches of water and holes were knocked into the wall, according to the arrest report. On scene, authorities found a set of footprints, which they tracked to a house across the street and found the suspect, Nichalas S. Lagasse, 22, of 8826 99th Court, Vero Beach.
Lagasse was taken to the house, where he gave detectives a "full confession to the crime," the arrest report states.
Lagasse faces felony charges that include grand theft, burglary, attempted arson, and criminal mischief, his arrest record shows.
Detectives found a propane tank with an open valve in the front room of the house, which they think was used in an attempt to set the house on fire, according to the arrest report.
The brother of the house's owner, Thomas Bissonnette, had gone to the home Sunday to pick up his sister's cats and a few other items as his sister, Amy Bissonnette, had moved to Texas, he told authorities.
Bissonnette noticed water on the floor and heard running water in the house before he stepped outside and called 911.
What was taken and whether the cats were found in the house were not included in the report.