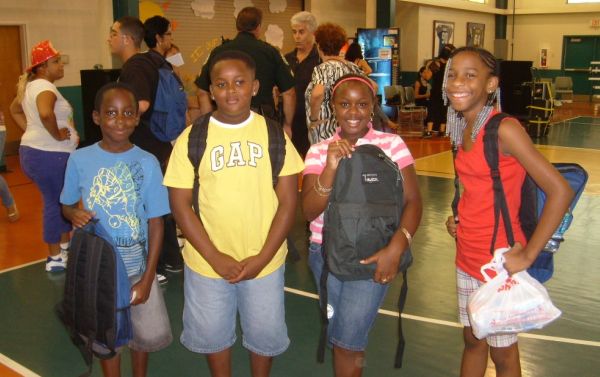 GIFFORD –  Kids and parents started lining up at 7:30 a.m. to get one of 700 brand-new backpacks and sacks full of school supplies when the Gifford Youth Activity Center Back to School Bash opened at 10 a.m. About 40 volunteers from the River Fund's Feed Everyone Program in Sebastian also arrived very early with a busy day ahead of them. They have donated time and treasure over the past month getting the backpacks and filling them with supplies in preparation for Saturday's event. Ananda Devi of Sebastian headed up the effort on from the River Fund.
"I think every child, for the first day of school should experience a newness and to believe in themselves, every kid deserves a fresh start," Devi said. "You can see the changes on their faces when they get the backpacks and new supplies."
Storm Grove Middle School student Jada Norris, who is 11 years old and going into the 6th grade, closely examined the supplies in her backpack.
"There is glue, scissors, paper, crayons, colored paper and glue sticks," Norris said. "That's like everything we need at school so we won't have to buy anything."
Her mom, Tamika Whylly has two children in school, so she brought the kids and a couple of their friends to the bash to manage her expenses.
"It's a great help, there will be a lot less we have to buy and it's greatly appreciated," she said. "The list of all the things they have to have is amazingly long."
All summer, many local businesses have helped with the supply collection by hosting drop-off sites and by making cash contributions. Collection boxes have been available at Riverside Bank, Indian River Federal Credit Union, Piper Aircraft, Disney's Vero Beach Resort, Northern Trust and the Visiting Nurse Association Hidden Treasures Thrift Shop.
There was no pre-registration requirement, but children do need to bring a parent along in order to receive the donated supplies. The GYAC has also been collecting gently used school uniforms for redistribution to children who need new clothes to start the school year. Executive Director Angelia Perry said the collections have drawn an "overwhelming response" from the community as in past years.
According to Freddie Woolfork, who heads up the Back to School Bash and marketing efforts for the GYAC, the bash is about more than just giving away supplies, it's a celebration of learning and a community-building event for his kids.
"It's a great way for everyone to get together, the kids with the parents and enjoy the event and the hot dogs," Woolfork said.
The Indian River County Sheriff's Office, the Visiting Nurse Association and other local agencies turned out to assist with the event. Detective Teddy Floyd coordinates community policing efforts in the Gifford neighborhood and has worked the bash since its inception.
"This event is like a disciple of hope, it gives people hope," Floyd said. "A lot of the ladies herre with their kids said they would not be able to do this, to supply the kids for school, without this event, considering the economy and the families being out of work."
Anyone who did not get a chance to help with this effort who wishes to make a tax-deductible donation to the GYAC to benefit its many educational programs to help at-risk and economically disadvantaged youth in our area should call Woolfork at (772) 794-1005, ext. 34.