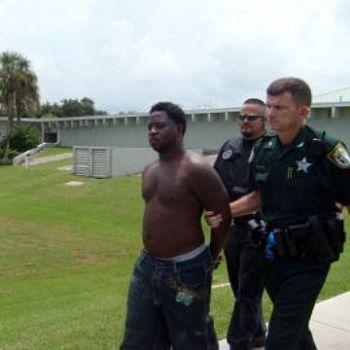 INDIAN RIVER COUNTY — In the second arrest today involving felony cases and assistance from the United States Marshal's Fugitive Task Force, Indian River County detectives and deputies were able to track down and arrest Leon Holmes of Gifford at about noon today on the charge of murdering local resident Doyle Jones in 2002.
Holmes was booked into IRSO headquarters and at about 2 p.m., was escorted over to the jail, where he will be held at least until his bond is set tomorrow at a first appearance. According to Sherrif Deryl Loar, the murder took place on Dec. 8, 2002, in conjunction with a robbery. "We were tracking him all morning, he knew we were looking for him," said Detective Anthony Civita. "We missed him at two other locations before we caught him."
The suspect was hiding in the attic of a house when authorities finally caught up with him. Deputy Jeff Luther credited both the Sheriff's Office deputies and the U.S. Marshals for tracking numerous leads statewide to lead to this arrest.
"The U.S. Marshals Service has really been an asset," Luther said. "It doesn't cost us anything extra but gives us a whole lot of resources that we can call upon very quickly."
The Jones murder is one of about 20 unsolved cold case murders in Indian River County, according to Civita.
"These guys worked long and hard on this case in addition to their regular caseload," said Deputy Darin Jones, division commander of special investigations. "This isn't what they do exclusively."
Deputy Commander Jones said Holmes will most likely stay at the County jail until a Grand Jury hearing can be set.