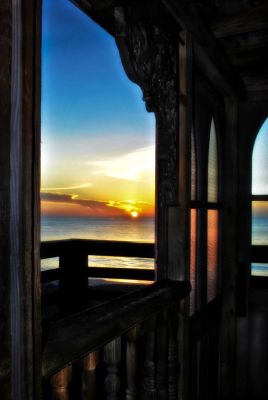 SEBASTIAN — Sebastian photographer Tara Gilligan was announced as the winner of the Vero Beach Photo Walk contest with her photo entitled "Buena Vista." The image captures a sunrise through a door frame.
On Saturday, July 18, over 32,000 amateur and professional photographers in 900 cities all around the world participated in the Second Annual Scott Kelby's Worldwide Photo Walk. This photo walk was a social photography event where photographers gathered on this one chosen day at a specific time in a pre-determined site in their town or city across the United States and throughout the world, to walk around, shoot photos, and capture images that are unique to their part of the world.
Twenty-nine spectacular images were submitted by our Vero Beach Photo Walk participants for a chance to advance to the worldwide contest. Take a look at the local images by visiting www.worldwidephotowalk.com/vero-beach-fl-usa. The winning image chosen to represent Vero Beach was a photograph of the sunrise framed by a doorway, entitled "Buena Vista" by Tara Gilligan. Tara lives in Sebastian with her husband and two children. She has been perfecting her photography skills by attending monthly photography outings as a member of the local Adventure Photography and Photo Walks group and is also a member of the Indian River Photo Club.
Tara's winning photograph has been entered in the worldwide competition where one grand prize winner and ten honorable mention winners will be chosen. The grand prize winner will receive a prize package valued at $11,000, with the honorable mention prizes being valued at $1,600 each. The winners in the worldwide competition will be announced on Aug. 17 on the Kelby Worldwide Photo Walk Web site, www.worldwidephotowalk.com.
Each city's photo walk was limited to 50 participants, who were allowed to submit two of their best images shot on that day for judging by their individual city's Photo Walk leader. The leader and organizer of the Vero Beach Photo Walk was professional photographer J. Scott Kelly, owner of Island Images Professional Photography Studio, Inc., founder of Adventure Photography and Photo Walks of Vero Beach, and co-owner and photography director of Southeast Gallery of Photographic Art, whose own images, according to the event rules, were not eligible for consideration in the worldwide competition.
To learn more about Adventure Photography and Photo Walks of Vero Beach and photo opportunities, call (772) 643-6994 or visit www.meetup.com/Adventure-Photography-Photowalks