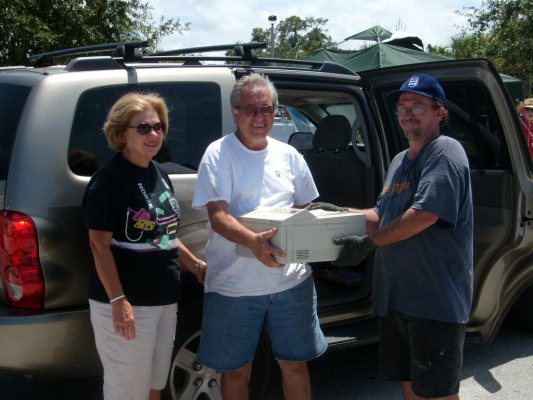 By Lisa ZahnerSEBASTIAN — More than 500 cars of Indian River County residents dropped off about 50,000 pounds of electronics to be recycled Saturday behind Sebastian City Hall.
 The event, coordinated by the Indian River County Solid Waste Disposal District and Keep Indian River Beautiful, was the first one to be held in the north end of the County. "We averaged 100 cars an hour the first five hours, then I lost count," said Bernard Higgins, who coordinates recycling efforts at the landfill and at the County's convenience centers.
 "It takes six months to put this together, we started planning as soon as the last one was over," Higgins said. "The last one was in January in Vero and the next one will probably be in January or February."
 Myra Mende, of Sebastian, claimed to have the most eclectic assortment of electronics in the back of her station wagon.
 "I just have a large variety — a lamp, two TVs, two VCRs, a leaf blower, a bonnet hair dryer, a turntable and a fax machine," she said.
 Richard and Lucy Hope traveled from Vero Beach to drop off two laser printers, a dot-matrix printer, a scanner and a fax machine.
 "We have this stuff and wondered what the heck we were going to do with it," Richard Hope said. "We called several thrift shops and no one would take it. We couldn't just throw it out because we hear about the chemicals that could get into the environment, we read about all the stuff that gets into the lagoon."
 Televisions and computer monitors contain lead and electronics contain a variety of metals that should not go into the landfill but have some value if recycled. AERC Recycling of West Melbourne supplied the semi trucks and the personnel to load the electronics onto palettes. They wrapped them with plastic for the trip and loaded them onto the trucks.
 "We have to pay for them to take the TVs," Higgins said. "But we get some money back on the computers and other electronics, so we'll see how it comes out."
 Electronics are accepted daily at the landfill and at the County's convenience centers from residential customers.
 Keep Indian River Beautiful Executive Director Kristy Sturdivant said she was happy with the first North County event. She said the Vero Beach event near the Indian River Mall, which has been gaining a following since it debuted about five years ago, drew 750 cars in January.
 "The last event was during season when everybody was here, so this was a really great turnout, considering the heat," she said. "We had someone bring a whole trailer of stuff this morning, maybe we did not get as many televisions, but I think the poundage will be close to the last event."