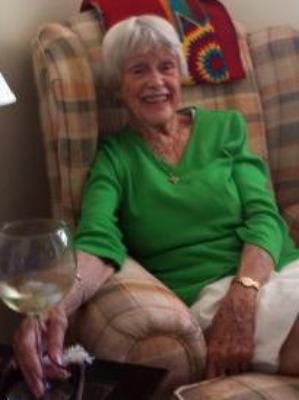 Mary Louise "Weezie" Wohlfarth, 86, of Vero Beach, died July 25, 2009, at VNA Hospice House. She was born the fourth child of nine brothers and sisters on Feb. 20, 1923, in Swissvale, Pa. She moved to Vero Beach 35 years ago, coming from her birthplace.
She worked as a sales representative in real estate, and as a long time resident of Vero Beach, Weezie was Realtor Sales person of the year for ERA Association, during her 10-year tenure. She also served as a volunteer at Indian River Memorial Hospital for a number of years. Additionally, she was Eucharistic Minister for both St. Helen Catholic Church, of which she was a member, and Holy Cross Catholic Church, of Vero Beach. Weezie was a fun loving, classy lady who never met a stranger, a caretaker for everyone and will be deeply missed by her family and her many friends. She was a member of the Red Hat Society, Delta Gamma Delta Sorority, West Side Racquet Club and Timber Ridge Racquet Club, of Vero Beach.
Weezie attended Edgewood High School, Edgewood, Pa., and organized the first cheerleading squad for the school and was president of her sorority, her senior year.
Survivors include her daughter, Mary Jo Douglass, of Dallas; sister, Marilyn "Minty" Grace, of Jensen Beach; brothers, Roger Kramer, of Pittsburgh, and Richard "Dick" Kramer, of Phoenix; two grandchildren; and three great-grandchildren. She was preceded in death by her husband, Charles A. Wohlfarth.
Donations may be made to Alzheimer & Parkinson Association of Indian River County, 2501 27th Ave., Suite A-8, Vero Beach, FL 32960 or to VNA Hospice of Indian River County, 1110 35th Lane, Vero Beach, FL, 32960, in memory of Mrs. Wohlfarth.
A memorial service will be at noon Aug. 3 at St. Helen Catholic Church, Vero Beach. Arrangements are by Thomas S. Lowther Funeral Home, Vero Beach. A guest book may be signed at www.lowtherfuneralhome.com.