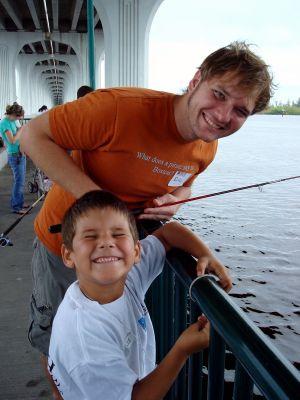 VERO BEACH — Youth Guidance kids enjoyed the Take a Kid Fishing Day Tournament held under the Merrill Barber Bridge on Saturday morning, June 6. This annual event, organized by Kiwanis Club of Vero-Treasure Coast, was attended by 23 Youth Guidance children accompanied by 21 adult volunteers. Kiwanis provided the fishing poles, bait, prizes, food, and drinks for this fun-filled event.
This outing is just one of many special activities held by the Youth Guidance Mentoring & Activities Program of IRC. Opportunities for volunteers to participate in one or more special events, such as this outdoor adventure, occur frequently throughout the year. The monthly newsletter found at the Youth Guidance website, www.ircyouth.com, contains information about upcoming activities. The agency also needs volunteers to provide office help on a regular basis. Youth Guidance serves 700 K-12 at-risk children who live in low-income single-parent homes. Its primary purpose is to match each child with an ongoing volunteer mentor. Mentors seventeen years and older spend time each week participating in recreational and academic activities, sharing hobbies, and just spending time with their assigned child.
Another Youth Guidance goal is to send each child in the program to at least one week of summer camp. Each week of camp costs $75; it is not too late to sponsor one or more weeks of camp for a child. Donations of any amount are welcome now and throughout the year to support camp and other Youth Guidance programs, including cultural, educational and recreational opportunities, tutoring services, and college scholarships.
Persons interested in learning more about mentoring a child, volunteering at Youth Guidance, or donating to the Summer Camp Fund may visit www.ircyouth.com or call Barbara Schlitt Ford, Executive Director, at (772) 770-5040 for further information.