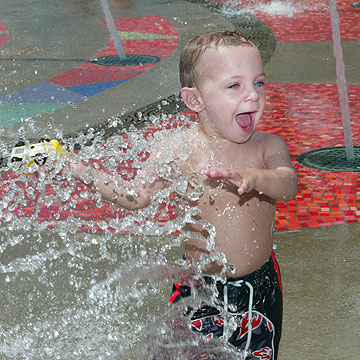 Staff ReportVERO BEACH – Based on figures in the preliminary 2009-2010 working budget, the City of Vero Beach has proposed offsetting reduced tax revenues by limiting recreational facilities used by the area's children, families and seniors for fun and fitness.
In addition to considering saving 5 percent of the payroll budget by furloughing employees one day per month, lots of smaller proposed cuts will impact services to residents.Yet at the same time City administrators are hoping to keep their car and mileage allowance, which exceed $45,000. The city hopes to save $30,000 by cutting the water off to the fountains at Royal Palm Pointe Park.
Another proposal is to close down Leisure Square Pool on 16th Street for nine months to save the city an estimated $70,000, but the city council and administrators' out-of-town travel won't be severely impacted. More than $132,000 for travel is on the books for 2009-2010. City Manager, Jim Gabbard said that the budget has been "cut to the bare bones." The first draft of the budget, which is still being worked on by department heads, will be discussed in public workshops on July 22-24 in the council chambers.